TIGER'S MILK
---
This EatView Is On Tiger's Milk In Suncoast Casino, Durban, South Africa
---
If you haven't heard about Tiger's Milk then you're at the right place. Keep reading to find out more about this awesome restaurant. This restaurant is situated at the outer section of Suncoast Casino, in Durban, South Africa.
Tiger's Milk is a restaurant that offers "dude food" which basically varies between all the comfort food such as burgers, pizzas & steaks. This restaurant also caters for vegetarians & vegans too! How cool is that? For drinks, you can always count on their ice-cold beers, tantalizing cocktails or virgin drinks if you're not one for alcoholic beverages.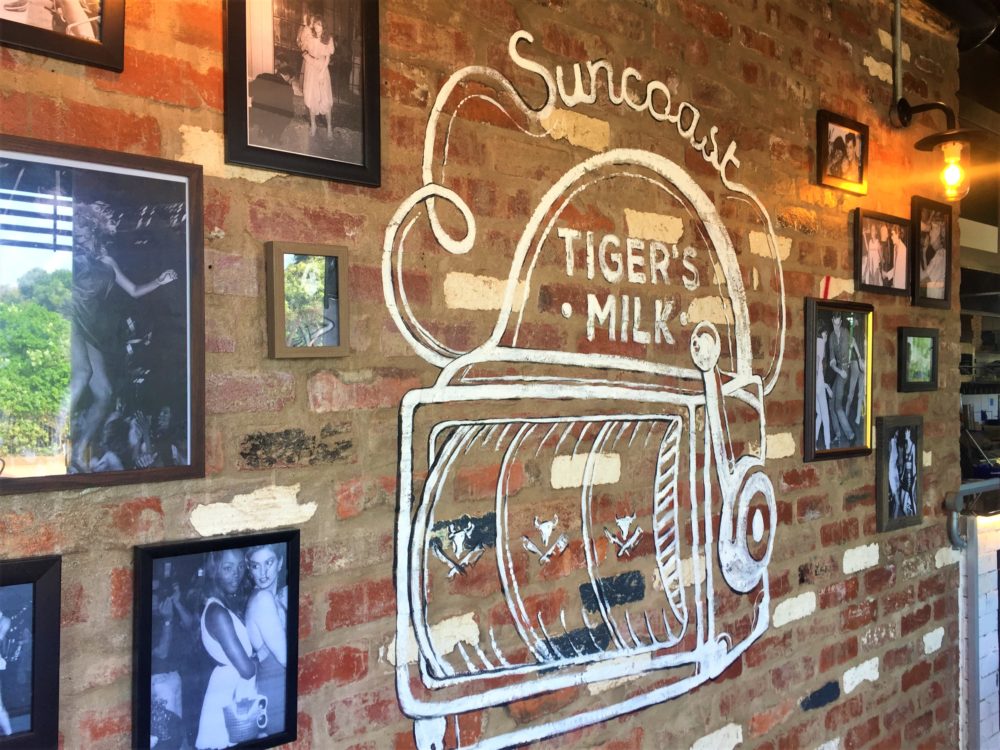 Walking into Tiger's Milk gives me goosebumps – only in the good kinda way though. Their setup is just so gorgeous & makes you feel like you're not even in South Africa. Yes, Tiger's Milk has definitely brought perfection to Durban with their copper piped legged tables, checkered floors, art work that speaks a thousands words & enough space to cater to larger groups..

So Tiger's Milk is fairly new to Durban & if you have followed my Instagram stories, you would know that I was invited to attend their astounding launch on the 13th of September 2019. Everything was breathtaking, from the service to the food.
If you travel around South Africa, you should already know by now that Tiger's Milk has other branches located in different areas.
They have branches in:
►Village Square, Cape Town◄
►Kalk Bay, Cape Town◄
►Camps Bay, Cape Town◄
►Kloof Street, Cape Town◄
►Claremont, Cape Town◄
►Century City, Cape Town◄
►Long Street, Cape Town◄
►Muizenberg, Cape Town◄
►Stellenbosch Central, Stellenbosch◄
►Melrose Arch, Johannesburg◄
►Lynnwood Bridge, Johannesburg◄
►Cedar Square, Johannesburg◄
►Bryanston, Johannesburg◄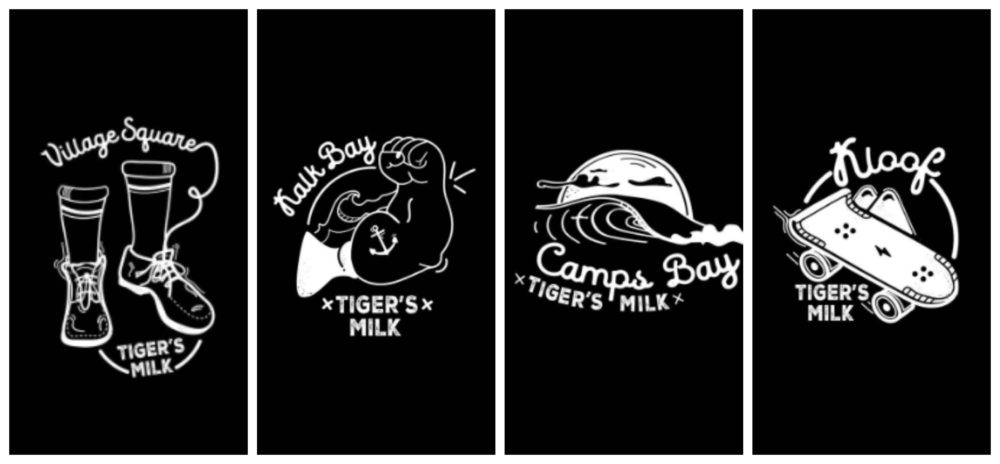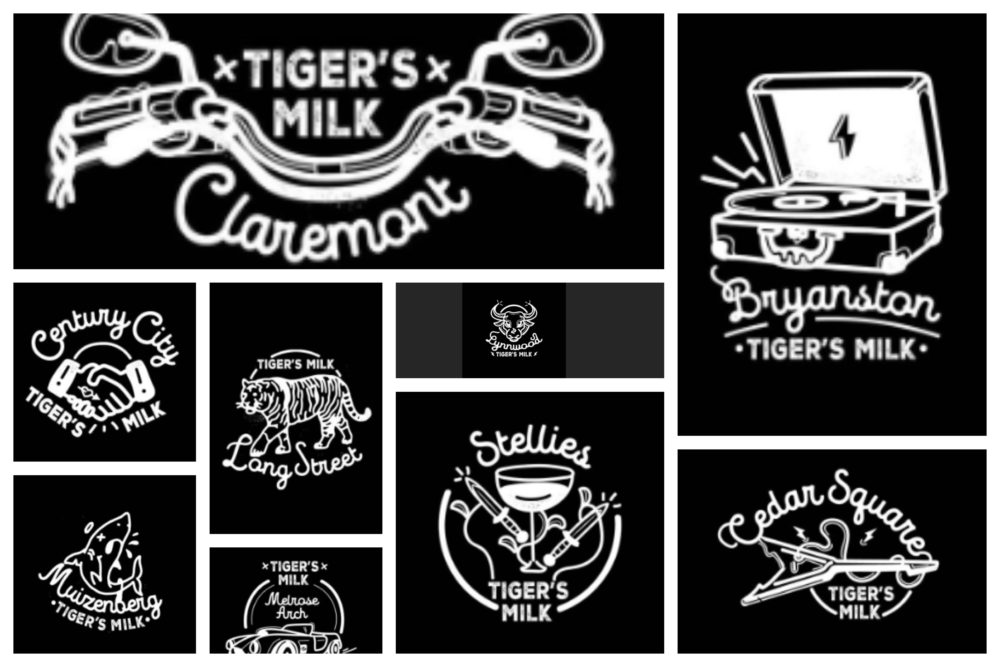 If you are in Durban & haven't yet tried out their dude food then you are definitely missing out! This place should be on your foodie bucket list because once you try it, I know from experience – it will be your home away from home!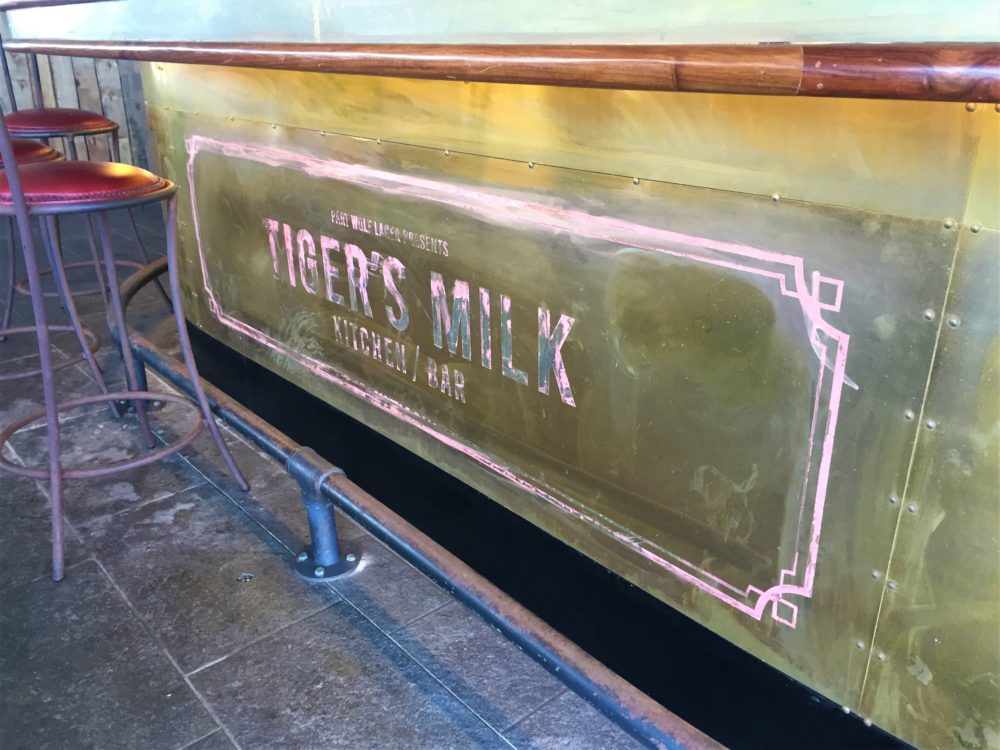 There are two levels to this ravishing restaurant, so you have the option of dining on the bottom floor whereby you can see the chefs in action or you can make your way upstairs to a more cozier vibe with the bar area amidst you.
The stairway that leads to the upper level has a man cave aesthetic to it, so don't be afraid if you come across some animal carcasses on you way there. I personally love their design.

As the waiter guided us to our table which was on the upper level, I was pleased to see my name on one of their tables. I know this probably sounds cheesy but hey who doesn't like feeling important? Ring them up & make a reservation so that you too can find your name glistening at you as you walk in.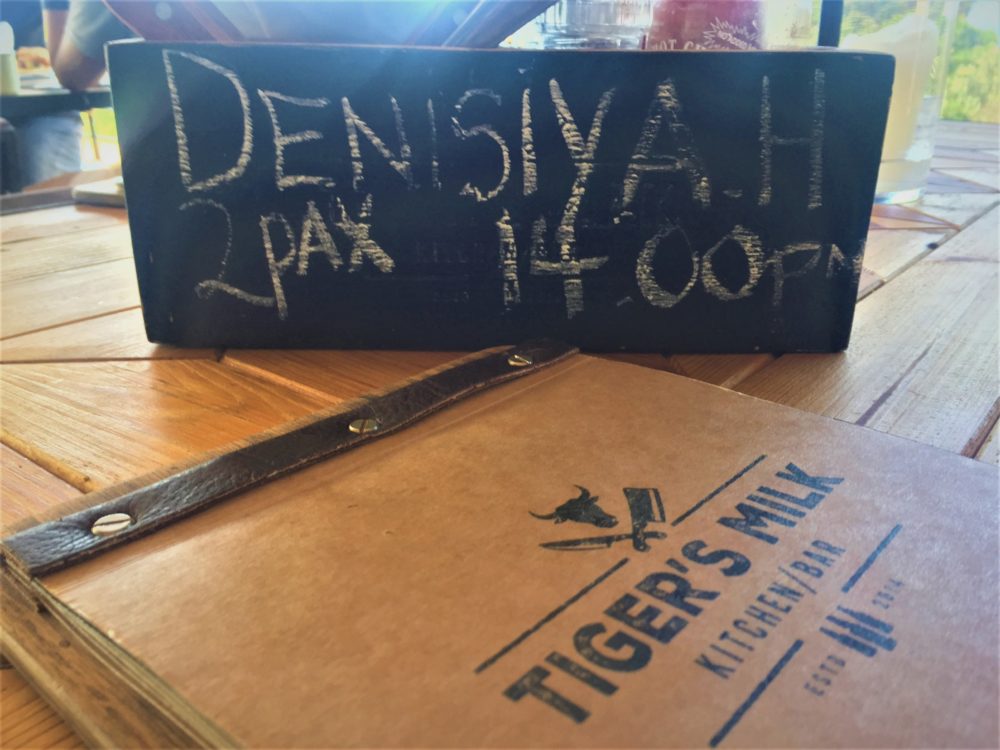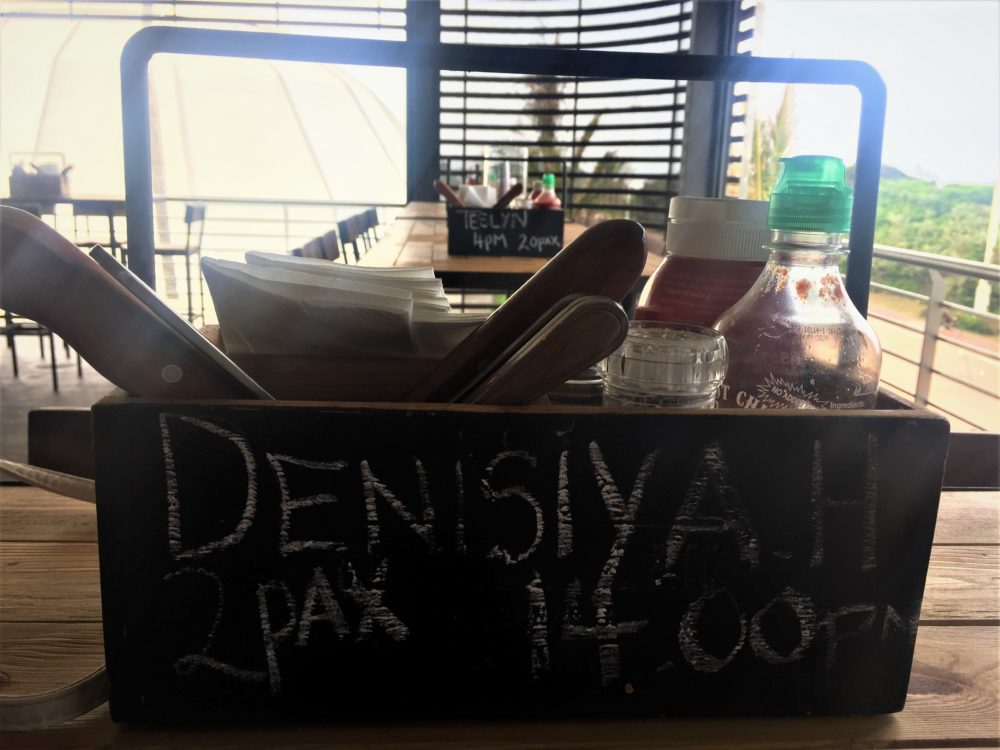 The view on the upper level certainly is amazing. It's so spacious with all the seating too!

This is the cool bar area on the upper level – cozy right? Makes me want to come in with friends & just chill & do some catch ups.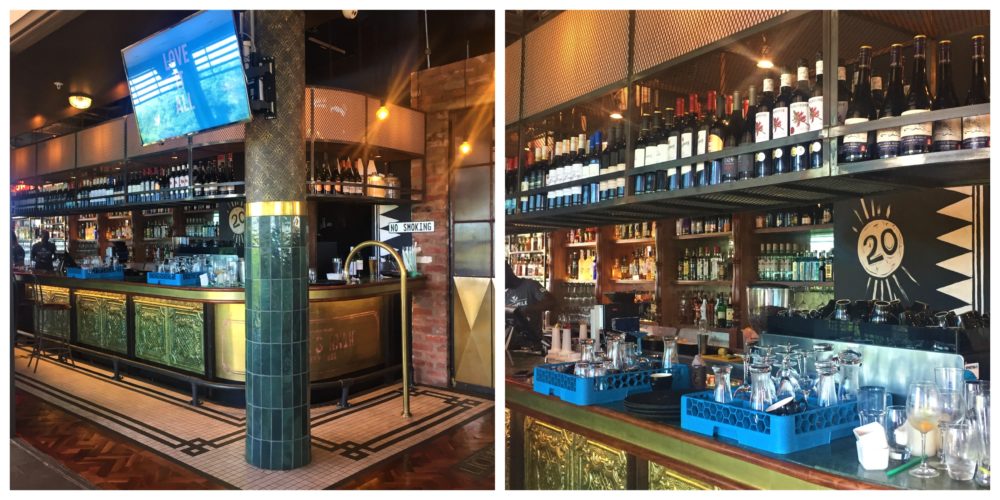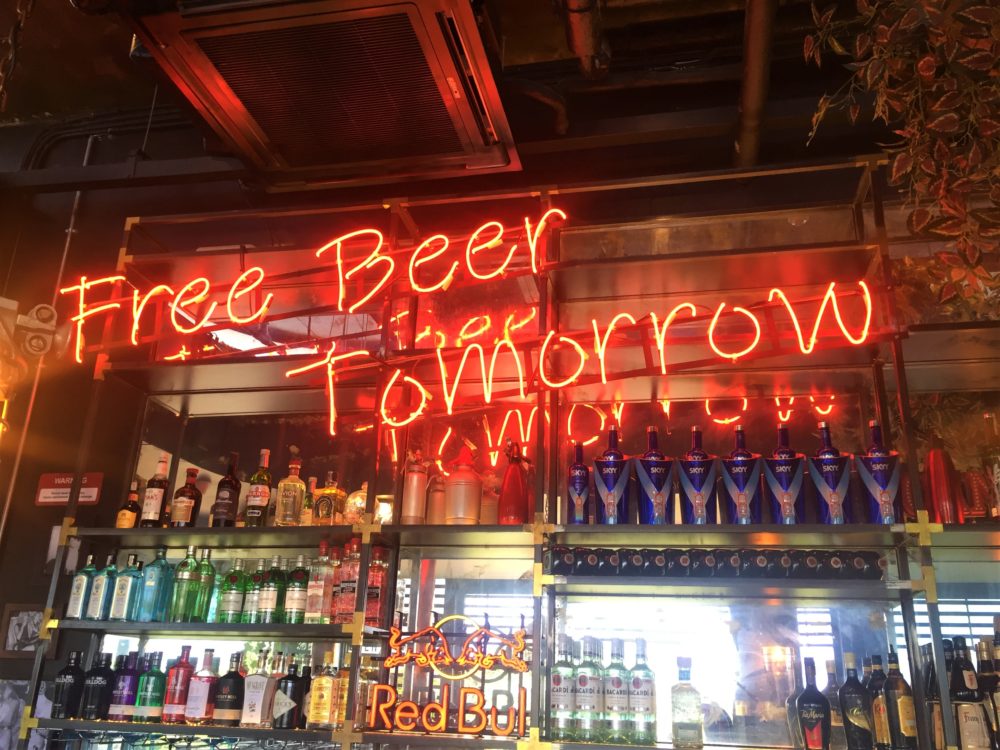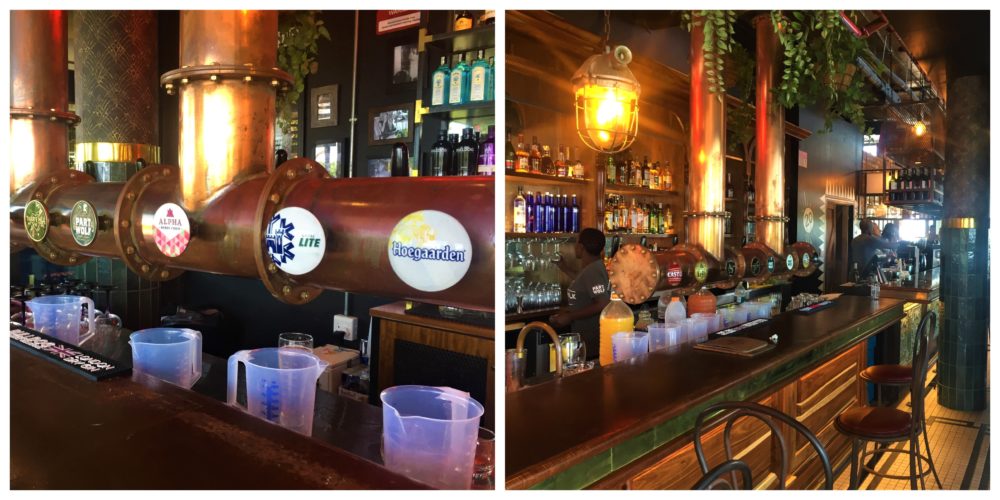 On another note, with regards to their artwork, these have got to be my favourite. How dope do these look? They can also be found on the upper level. Definitely a place for those instagrammable pics.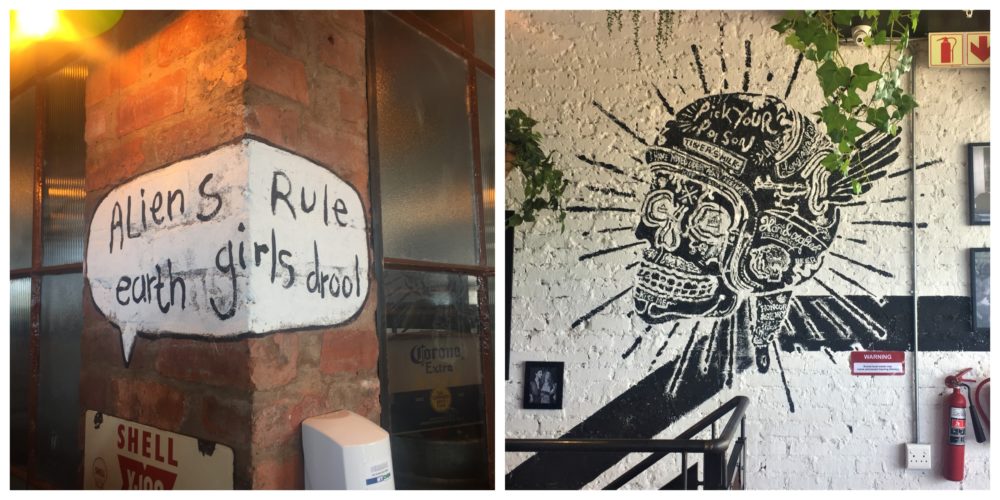 Yeah, yeah – I know, I got carried away by their aesthetics & ambiance, I couldn't help myself. Let's get down to business & talk about what's on their menu…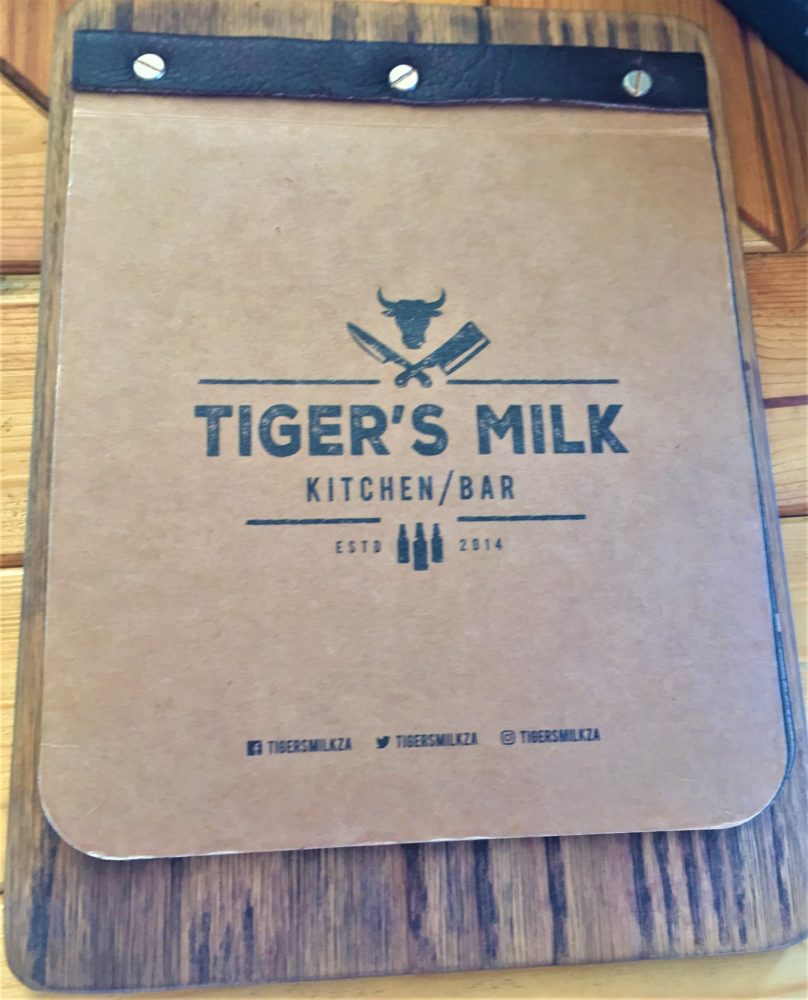 So, after being seated, I was eager to try a drink that caught my eye. If anybody knows me, ya'll know I love me some Corona, as I was scrolling through the drinks menu, I found a cocktail called the "Corona Rita". It consists of Olmeca Black , Lime, Mango & a bottle of Corona dunked into the mix. Whew, now I have never tasted a drink like this before! It was such a humid day in Durban & this drink was such a quencher. The flavours were so delicious & I never in a million years would have thought to mix Corona with something sweet & call it a cocktail. This is by my new favourite drink & if you see me at Tiger's Milk, you know I'll be sipping on these Rita's.
Hubby decided to try out the Part Wolf Lager which was also a good choice. Try this out if you're ever visiting Tiger's Milk.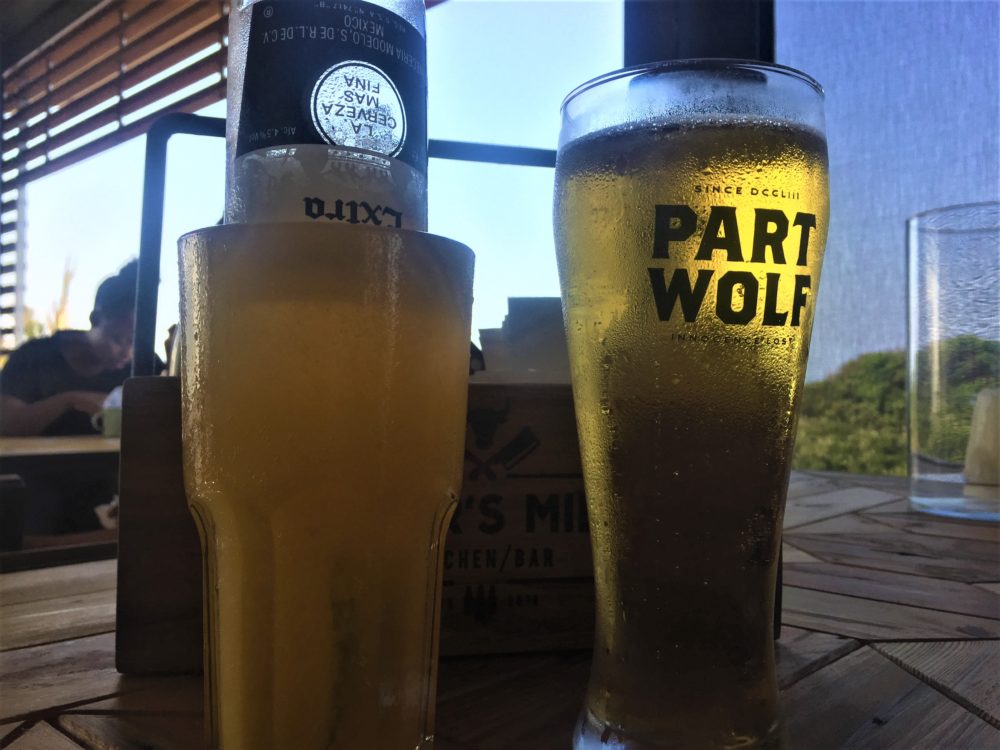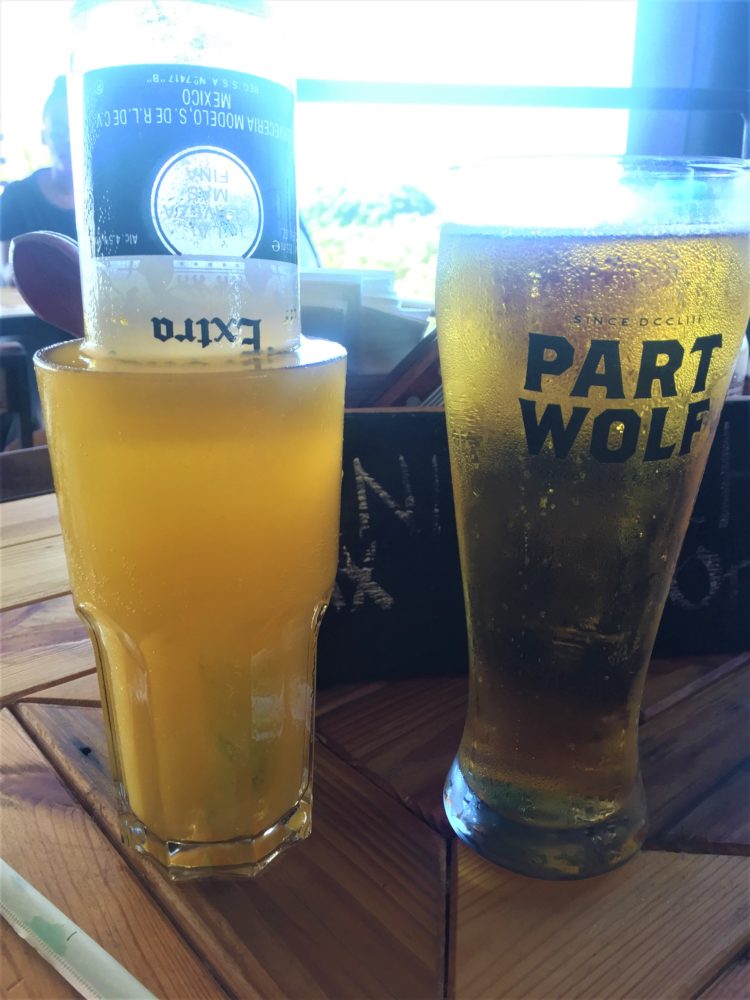 Whilst sipping on our drinks, we decided to order up some starters.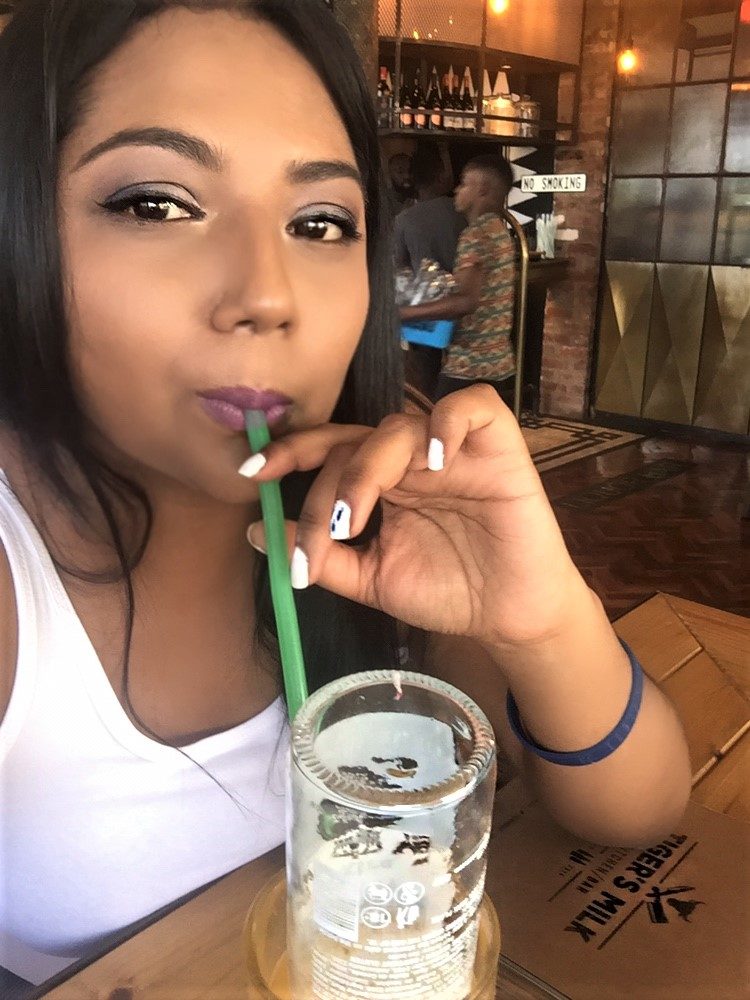 I chose their Fried Calamari with roasted garlic aioli. This was super yummy & the calamari wasn't at all greasy, given the fact that they were fried. The garlic aioli was such a nice compliment to the calamari, these two sure go well together.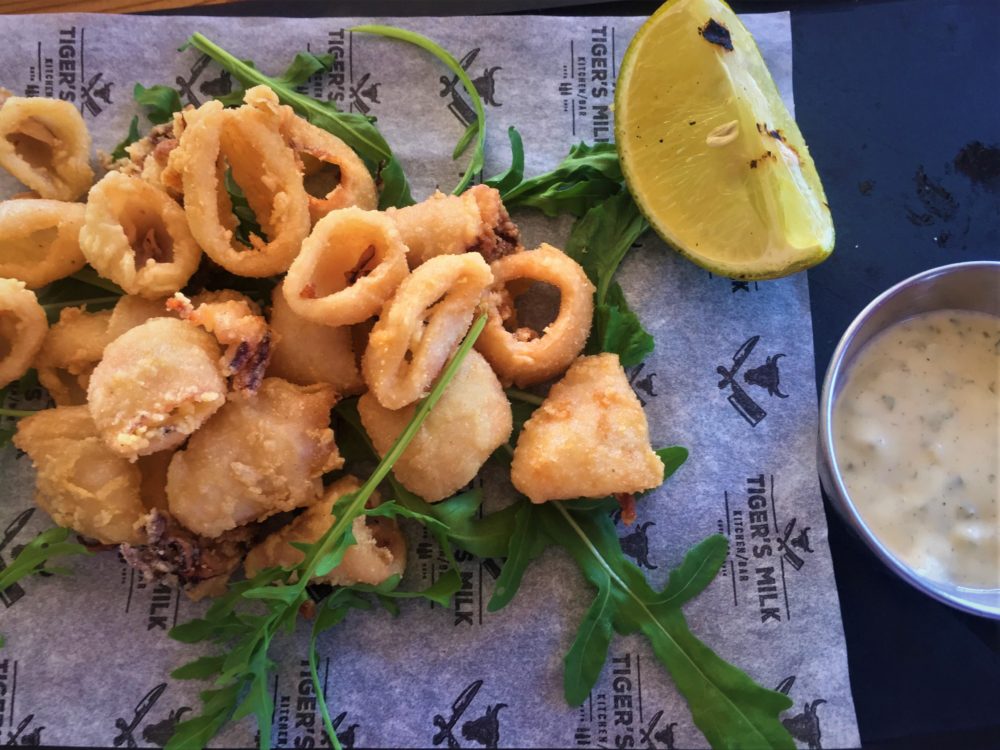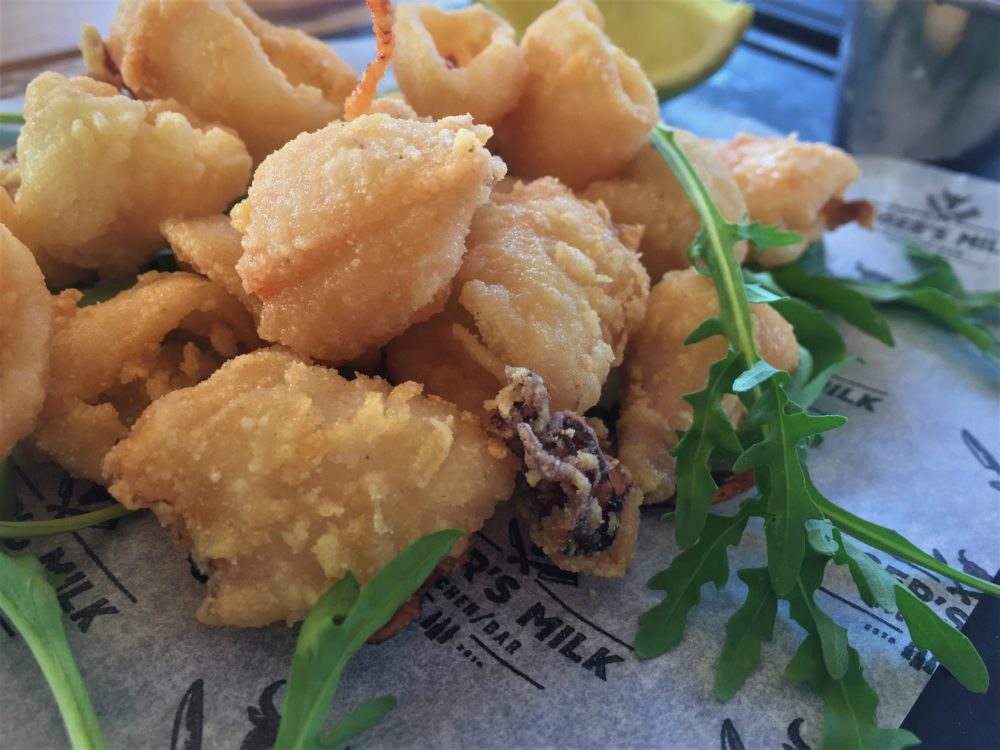 Hubby decided to have the Crunchy Peri-Peri Chicken Wings which were so flavourful. It is meant to be one of their spicy starters but in my opinion it was not spicy at all. It could be that our pallets are so well accustomed to spicy food that our heat level is way up there but if you have the nick for something super hot, just advice the staff to kick it up a notch. The manager gave us a heads up on this. But overall the taste was really good.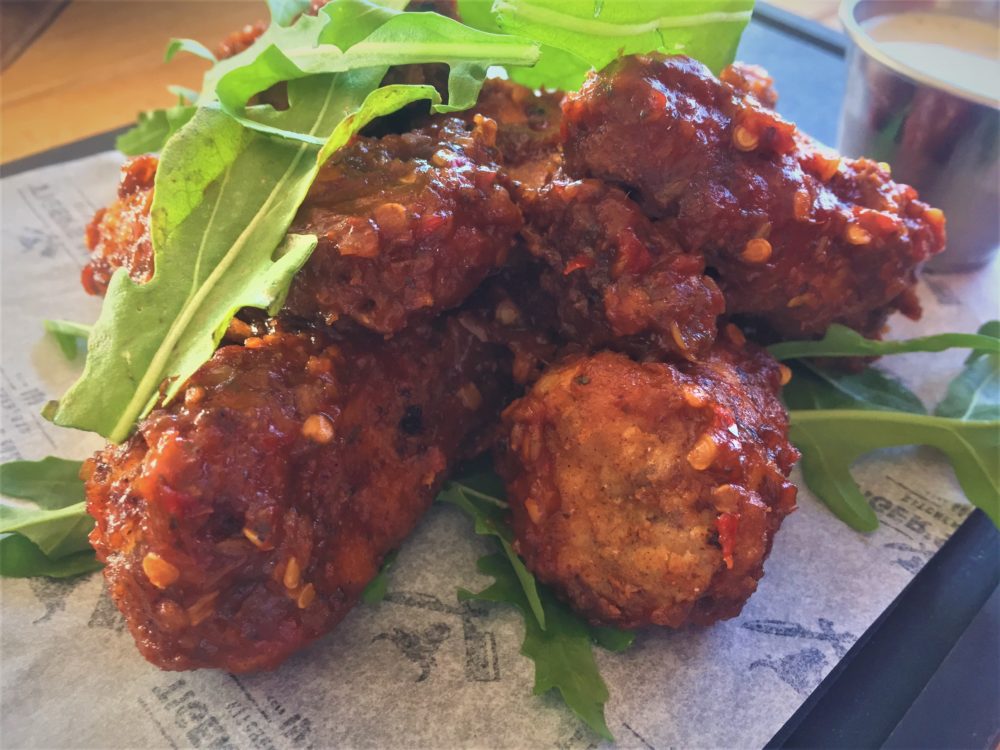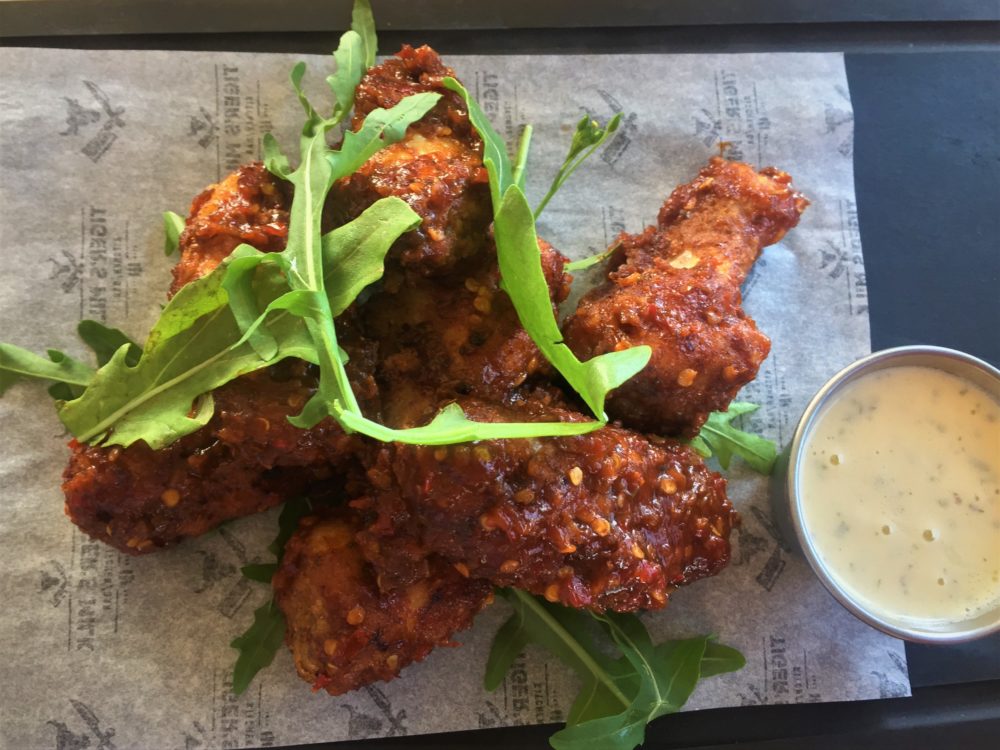 After those delicious starters, we got to our mains. I had the Ribeye On The Bone which was a 600 gram steak. It looked so good & tasted even better! The steak was done to perfection, impeccable flavour! It comes with a sauce of your choice so I had the Truffle Mushroom Sauce which was proper mushroom sauce. It didn't have any of that artificial aftertaste. This meal also comes with a side of your choice so I chose the Hand-cut Fries & the Onion Rings.
The fries were unbelievable. These fries literally melted in my mouth & I could not get enough of it!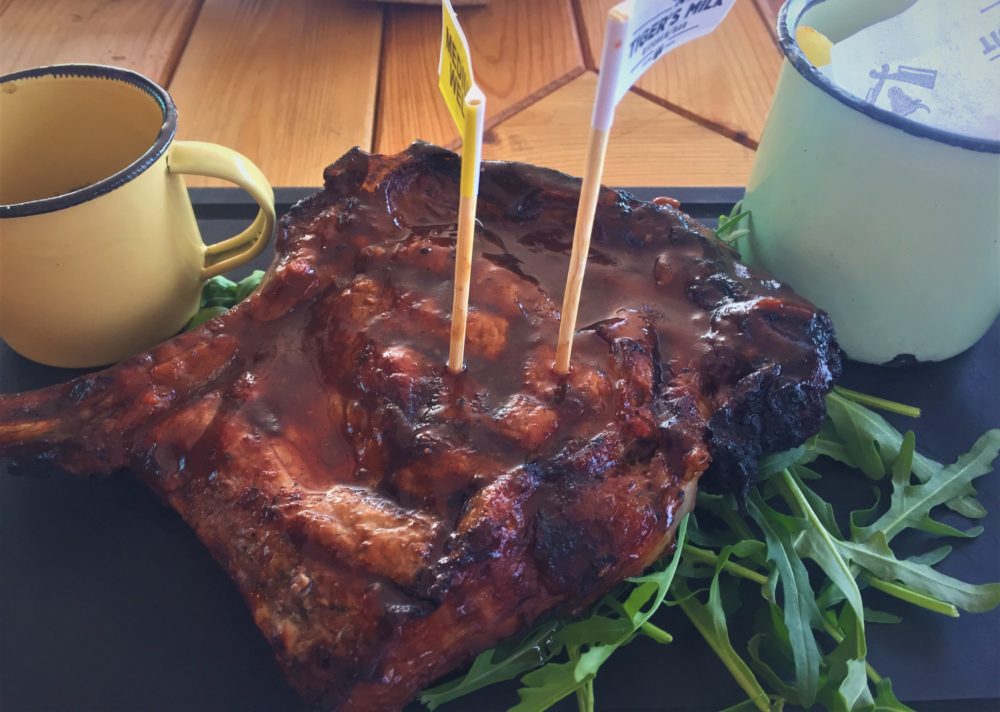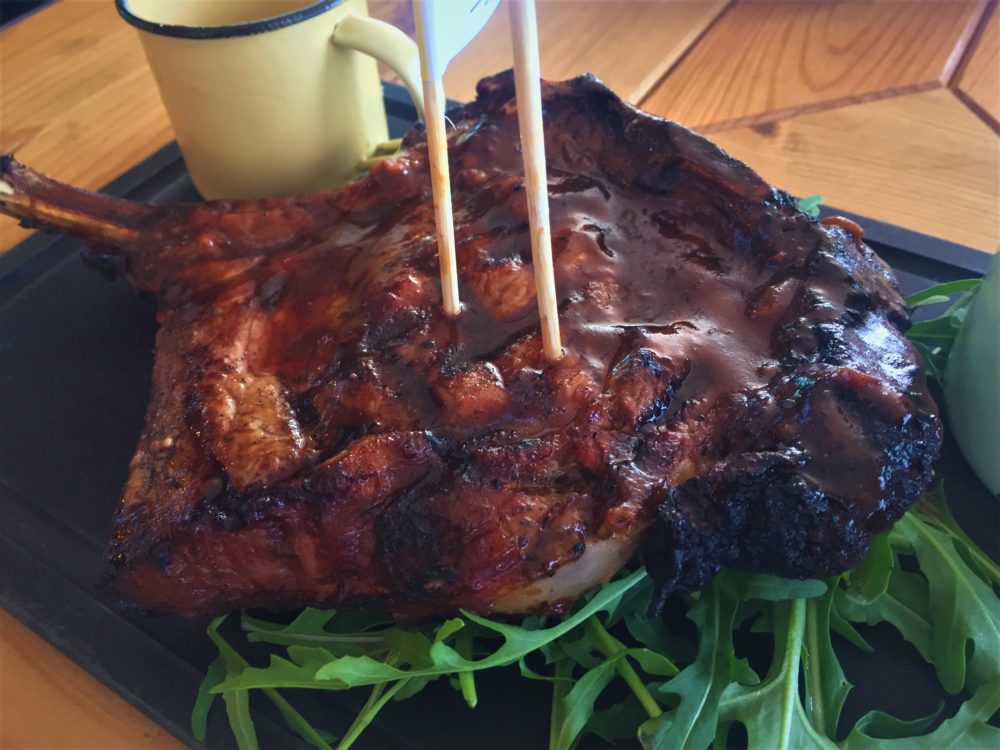 The Onion Rings are to die for. The batter was so yummy & these were served hot & crisped to us. Hubby also had the Onion Rings as his side. Really divine indeed.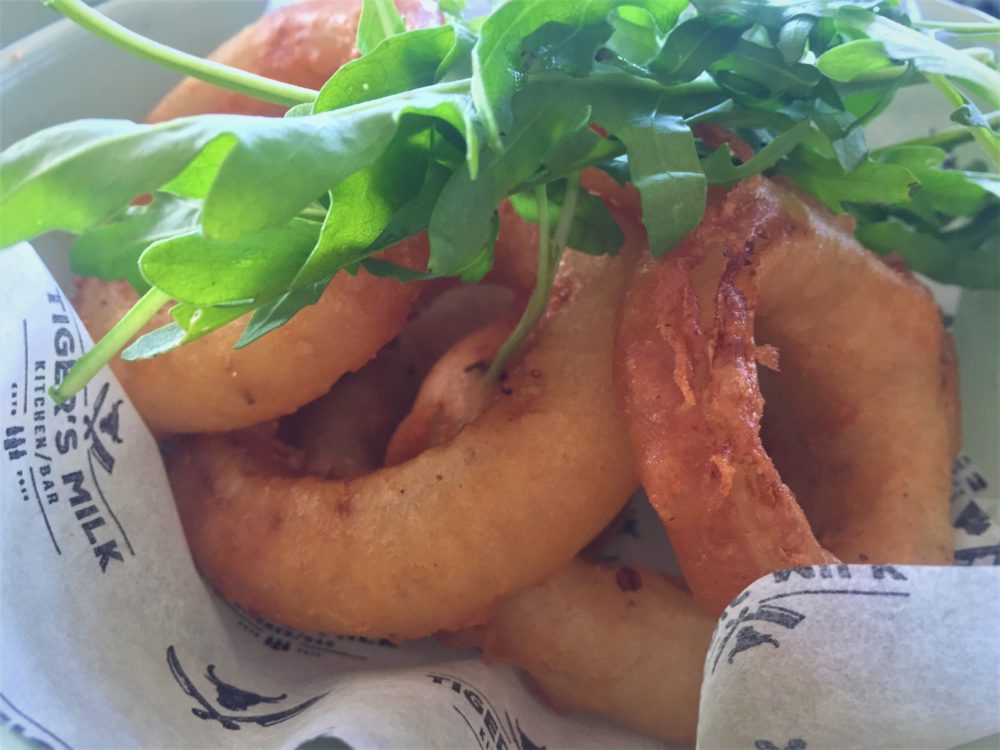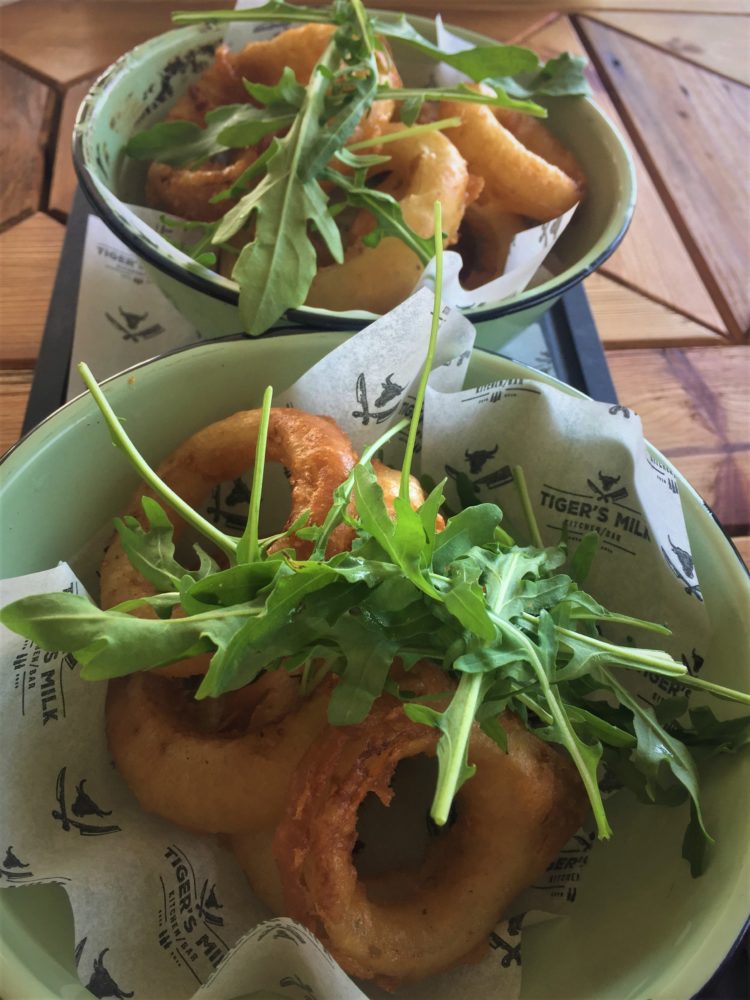 Hubby ordered the 300 grams Sirloin Steak. I took a bite of his & it was so darn good. The meat was so tender & scrumptious. He had also chosen the Truffle Mushroom Sauce & spoke highly of it too – I wasn't the only one!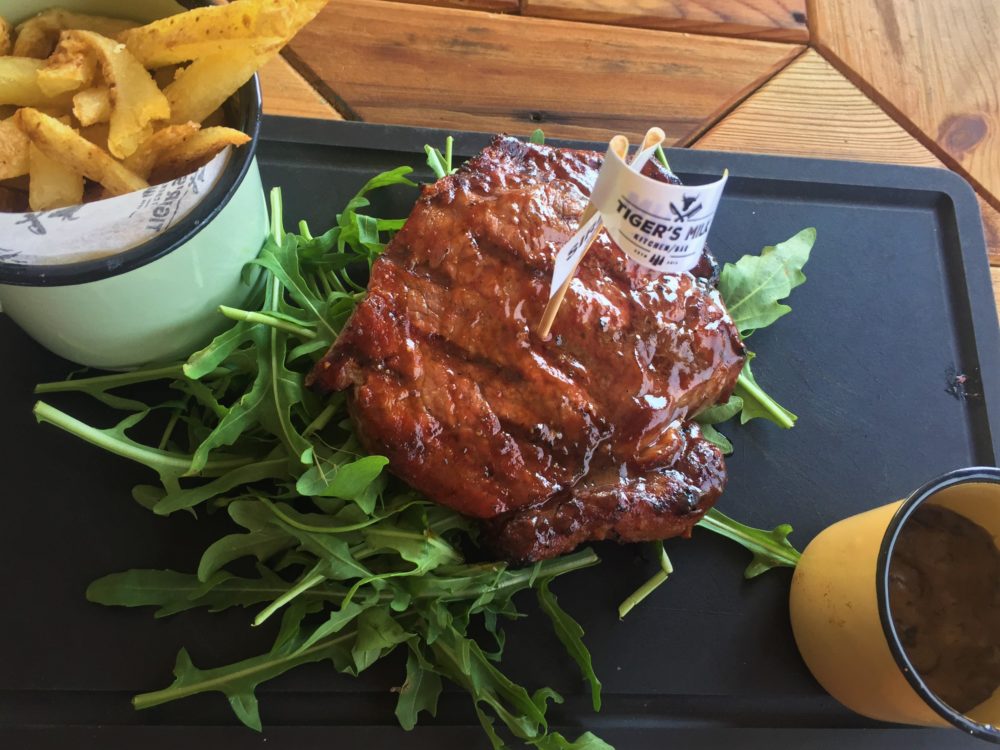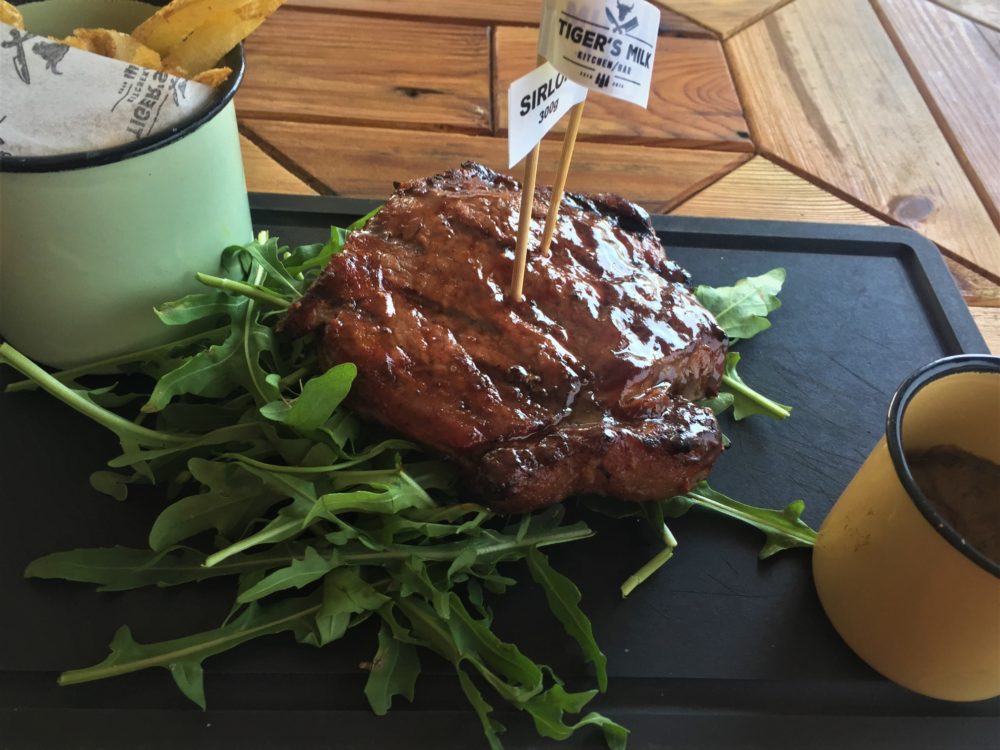 After mains, we took a stroll, just to make space in our tummies for Tiger's Milk's decadent desserts.
This upper level has thee most beautiful lounging areas – trust me after my mains I wanted to collapse on those seats, but it was super busy & I did not want to be eyeballed, lol.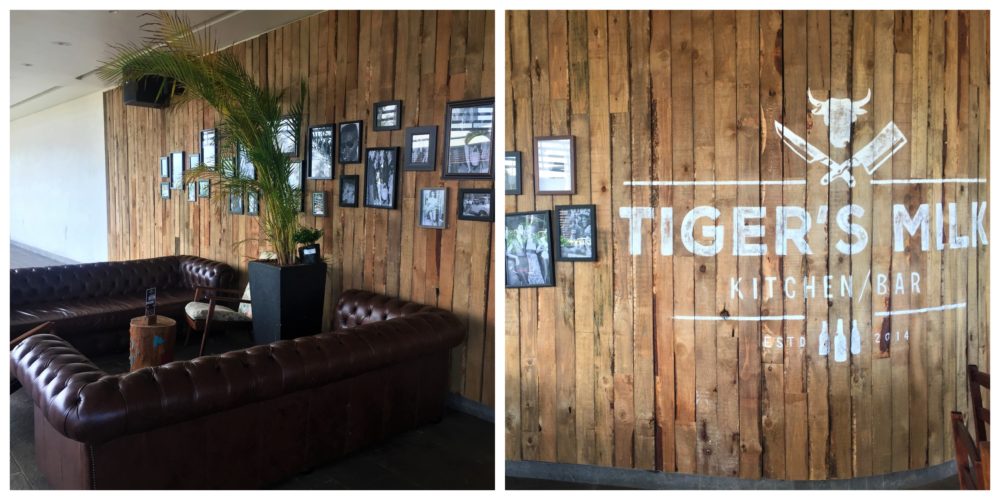 We headed back to our seats for desserts & I wanted everything. Why is it so difficult to choose a dessert? Hubby is a chocolate lover so without hesitation, he picked the Naughty Chocolate which is chocolate brownies, vanilla bean ice cream,
chocolate sauce & chocolate sprinkles. Too much chocolate is never enough lol. This dessert was really a chocolaty dream. The brownies were rich & moist, you've just gotta try it for yourself to know its worth.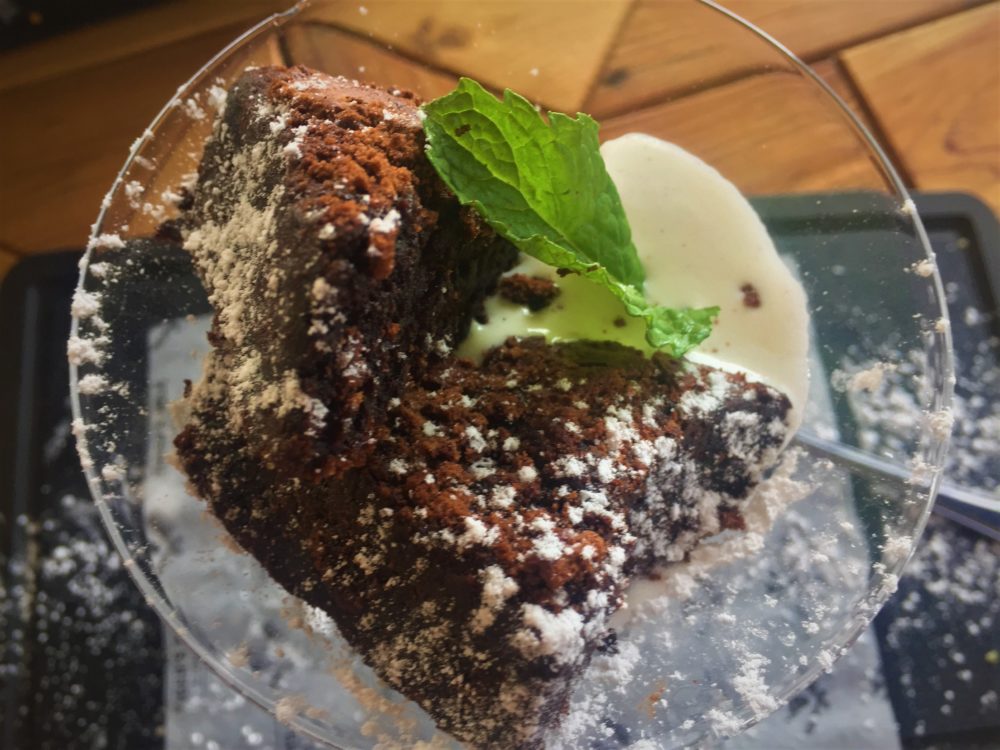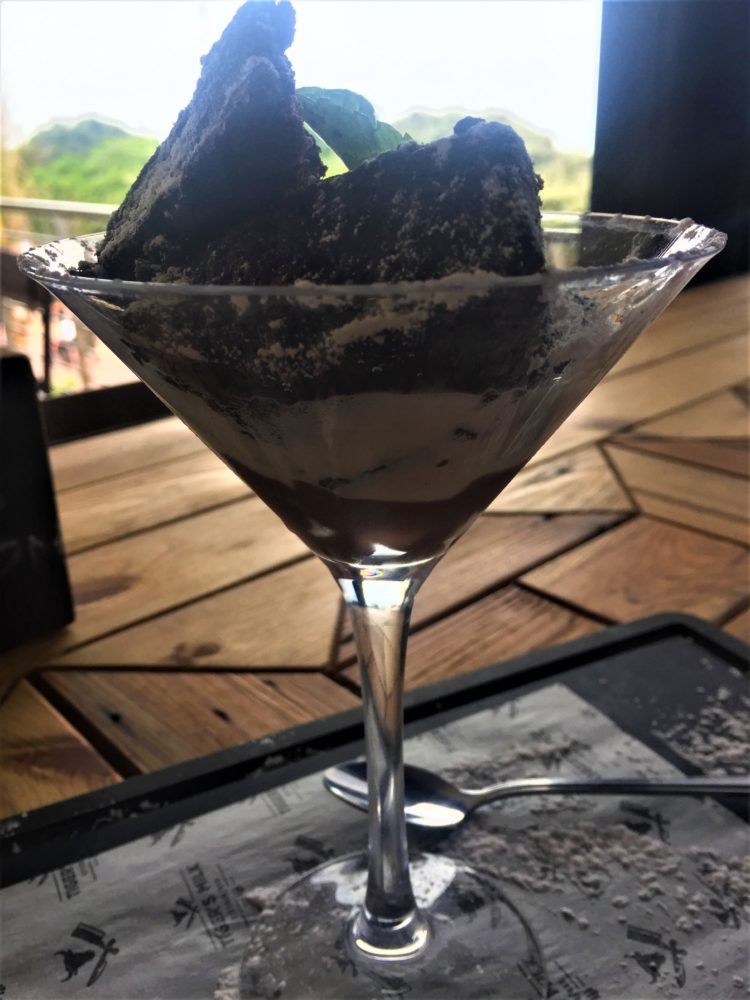 On a regular basis, I would also opt for something chocolaty but this time around, the Bread & Butter Pudding made me salivate. It is baked in a cinnamon-vanilla custard with raisins & apricot jam, toasted almond flakes, served with vanilla bean ice cream. Tell me that doesn't make you drool? I ordered it & was super impressed with the plating. Usually bread & butter pudding is a great big mess but Tiger's Milk made the cutest looking one. The aroma was so warm & cinnamony. I tucked into it & it was pure heaven. Tiger's Milk has officially changed my dessert option to their mouth watering Bread & butter pudding. Please do try this, even if you're not a lover of it, trust me it will change you completely. I say, "You cant leave Tiger's Milk without tasting their pudding!"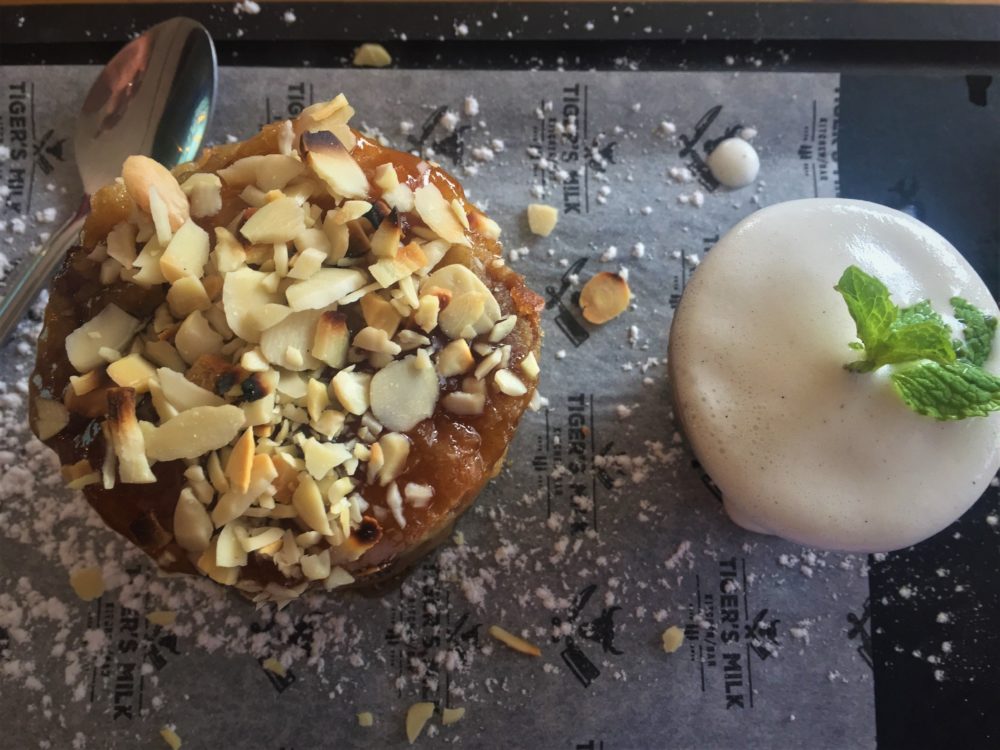 A big thank you to the manager Adriel Govender, he was so considerate & helpful to us during our visit. The service is spectacular & I must commend him on his brilliant communication skills. He went out of his way & worked way passed his clock in order to see that we were fully satisfied.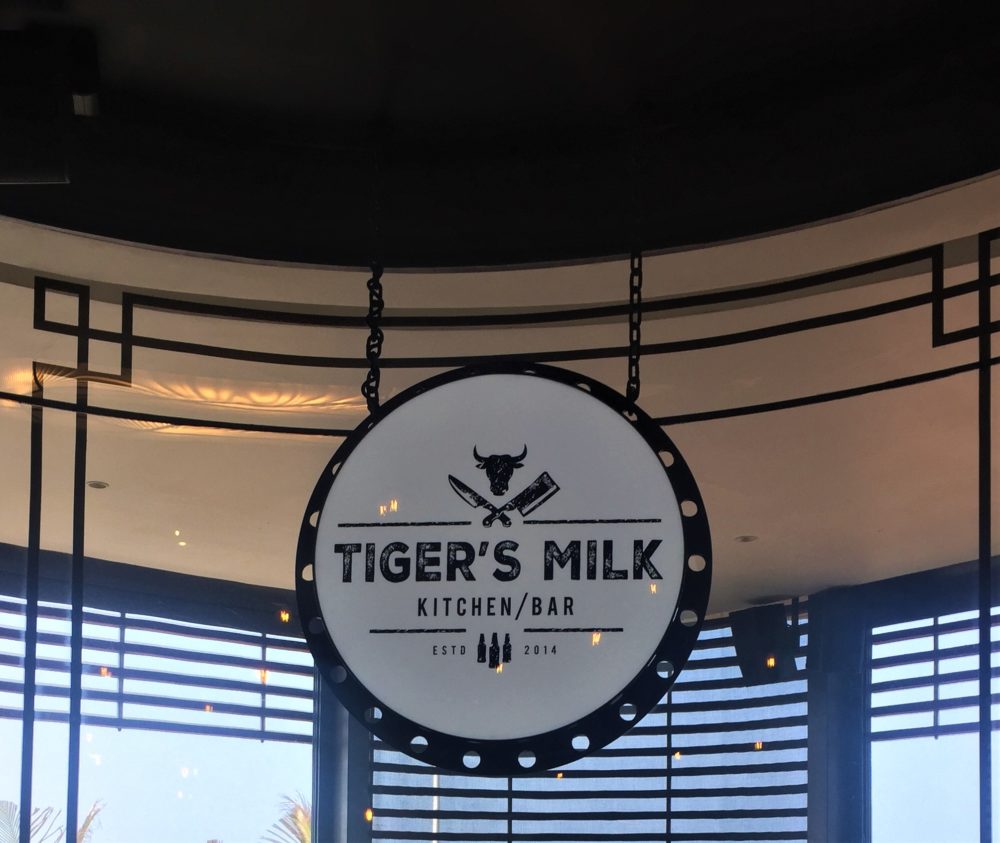 By the way, if you head to Tiger's Milk at Suncoast Casino at night – specifically on the weekends, it's a really great party vibe. They aren't considered a club but they often have in some great DJ's, live performances or a really cool playlist on to get you in that happy mood. The buzzed vibe is almost always on the upper level due to the bar being situated there. I must warn you though, they do get busy so there may be a few queues to follow through – you can always skip the queues by making a reservation though, it's that simple, but hey if it's the last moment then heck follow the queue because it moves pretty quick & I'm sure it will be worth it after all.
If you are heading upstairs on weekends, most of the time you will get a band which allows you to pass through without following the queues all over again.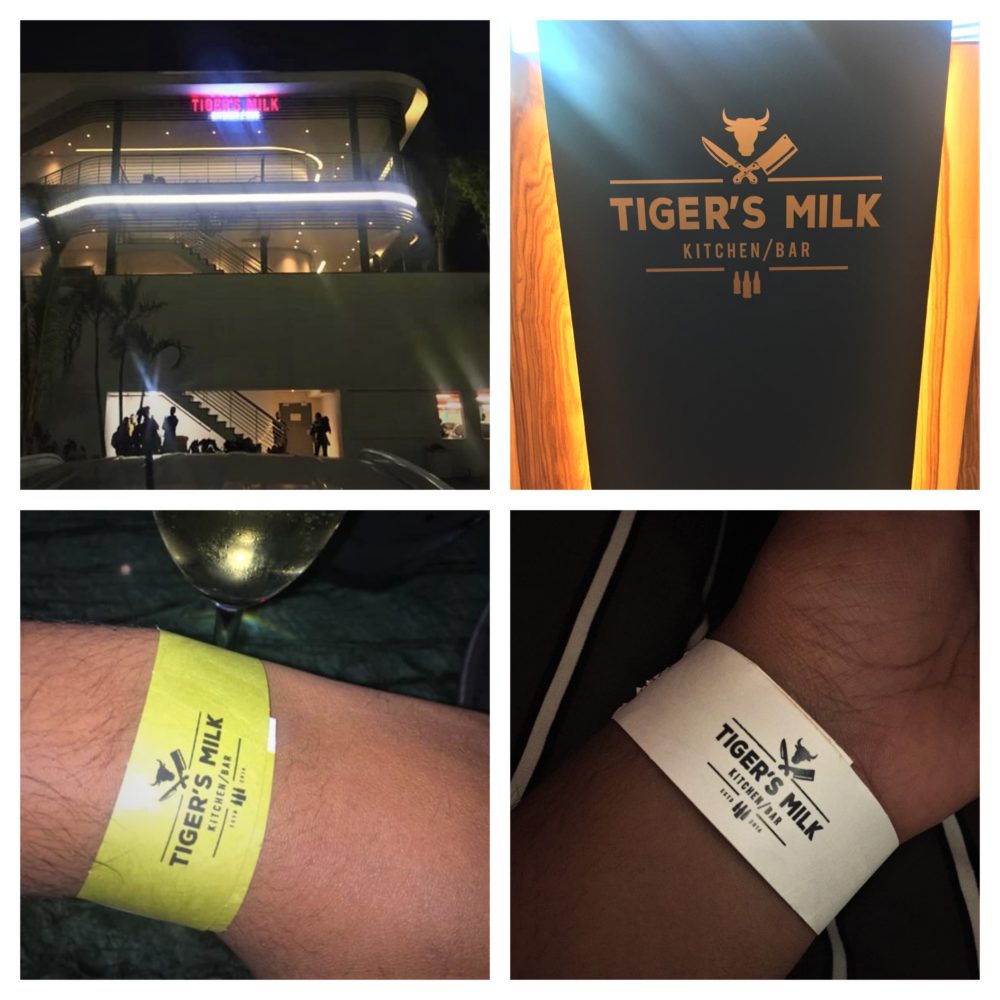 I had such a magnificent time at Tiger's Milk & highly recommend them. I will surely be making my way to them soon as I have many other tasty items that I need to try out from their menu,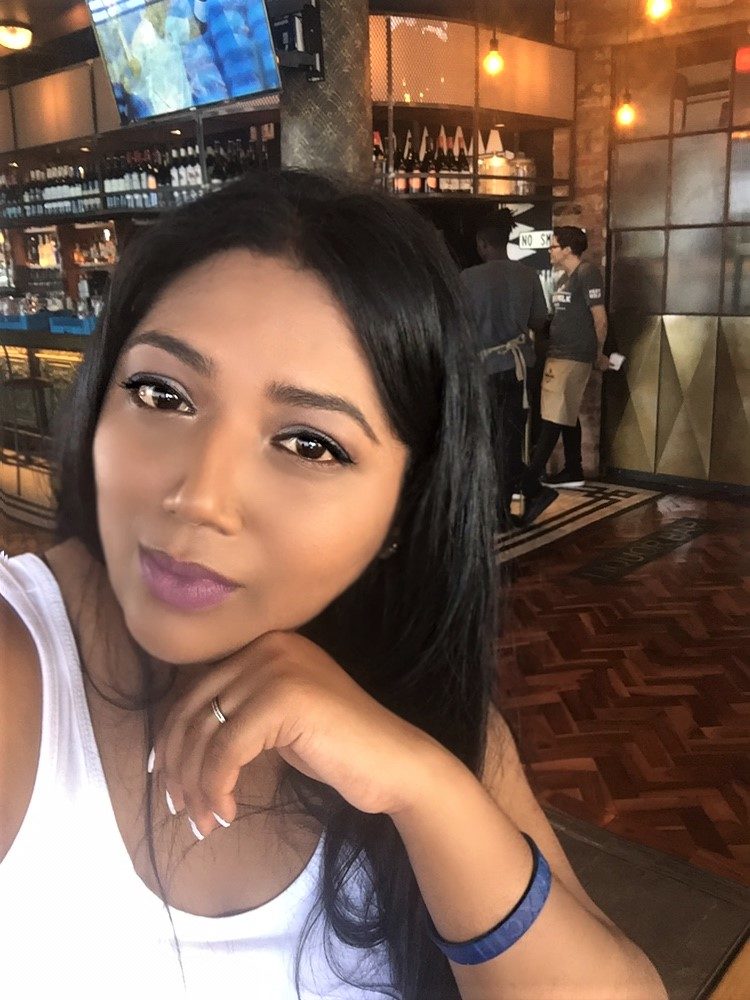 Opening Hours & Details Of Tiger's Milk Restaurant: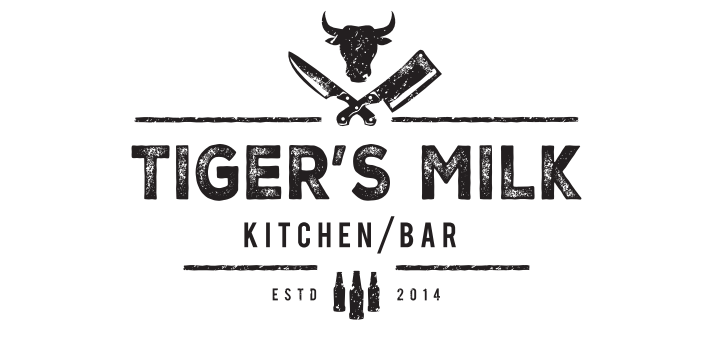 Address: Shop LR020, Suncoast Casino, Durban, KwaZulu-Natal, South Africa