THE WAFFLE HOUSE
---
This EatView Is On The Waffle House Restaurant In Ramsgate, South Africa
---
If you love everything waffles then The Waffle House is the place to be. The Waffle House is situated in Lot 839, Marine Drive, Ramsgate, KwaZulu Natal, South Africa. This place not only has great food but it also has a great atmosphere with lots of picture perfect sceneries.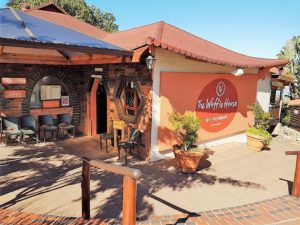 I visited The Waffle House with my husband & a group of friends. We reside in Durban, so this Eatery was an hour & a half drive away. We woke up super early & started this adventure to see for ourselves what this much talked about restaurant was about – because I mean it serves waffles hence the name, but was it really worth the 90 minutes to get there?
We finally arrived after a few stops here & there, & to our surprise, this place was buzzing with people from all over South Africa. Now as rumor has it, in order to get in, there are sometimes a waiting queue that needs to be followed because everyone loves The Waffle House. Now the waiting queue is estimated to be from 30 minutes to sometimes 90 minutes! Luckily on our arrival, the queue had only about 5 other customers in front so we got seated in no time – & it was a Public holiday, so really we were a few of the lucky ones.
The restaurant itself is quite spacious & caters for small & large groups of families/friends. The waiter, who was super friendly, had us seated & handed us our menus. These menus are simple to read with all the information provided below each waffle. There are a variety of waffles that they serve ranging from sweet & savoury with a great spread of toppings.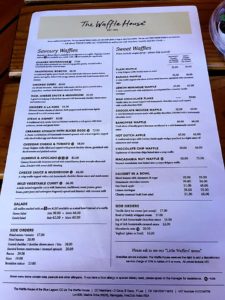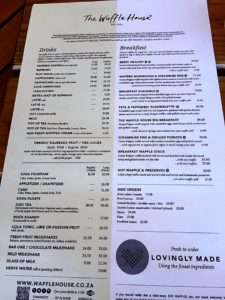 I've never eaten savoury waffles before, so I was much anticipated to try them out at The Waffle House. I ordered the Steak & Kidney Waffle which costed R83.00 – the price may seem a bit steep but trust me it's so worth it! The menu description states that it is "a traditional style tender beef & kidney cooked in a rich gravy, with fresh potatoes, carrots & green beans" & this is exactly what I received.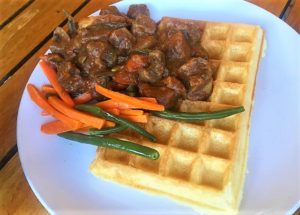 The steak & kidney was absolutely fresh, no kidding, I literally wanted more but then I had to try something sweet because sweet waffles are so overrated, nobody can resist them. I ordered the Chocolate Chip Waffle which reads "Explosions of chocolate chips baked into a crisp waffle" on the menu. Who can resist those indulgent words? I had to have it! It was truly an explosion of happiness topped with vanilla ice-cream.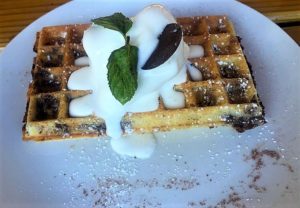 They offer a variety of sweet & savoury waffles, namely, Banana Waffles, Chocolate Brownie Waffles, Chicken Curry Waffles, Macadamia Nuts Waffles, Lemon Meringue Waffles, Cheese Sauce & Mushroom Waffles, Smoked Chicken Waffles, Milk Chocolate Flake Waffles & tons more.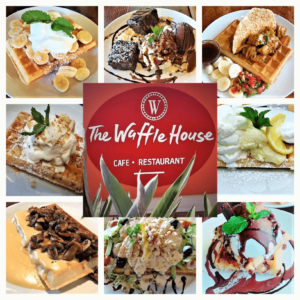 The Waffle House is definitely my favourite Waffle joint & I will be making my way back there with an empty stomach of-course to devour all their other delicious flavours & toppings.
Apart from the mouth watering food, once you're done eating, you can take a stroll outside into Tanglewood Forest. The original sub-tropical forest that used to surround the iBilanhlolo River is preserved as Tanglewood Forest. Here you will find knotted & twisted trees as well as other hidden gems.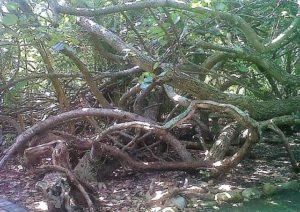 Ramsgate beach is a pathway away from The Waffle House. You can enjoy your surroundings & unwind with the provided stone benches & seating areas allocated along the pathway.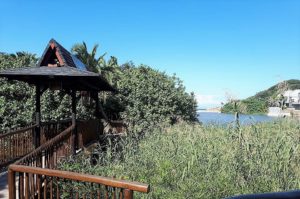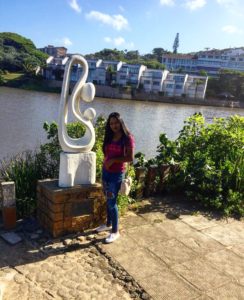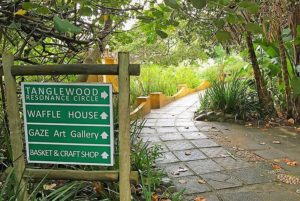 As you're intertwined within the forest, you will come across the resonant circle & this is something you will have to try! All you have to do is stand in the middle of the circle, position yourself towards South West & say your name. You will hear it's echo ringing in your ears. This magnificent mystery turns you into a kid again because it leaves you fascinated.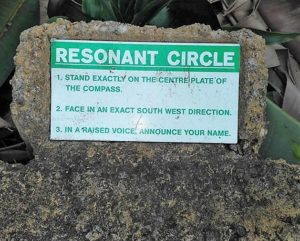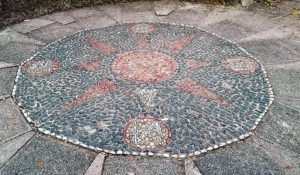 If you're ever visiting South Africa, make sure you stop & check out The Waffle House. Residents of South Africa should also visit this extraordinary place. All this waffle talk is making me hungry, fingers crossed, I'll be road tripping back there soon!
            Opening Hours & Details: