EL TORO
---
This EatView Is On El Toro In Durban, South Africa
---
If you're a Mexican Foodie like I am then El Toro is the place to be. This restaurant is situated in 5 – 7 Mackeurtan Avenue
Durban North, Durban, South Africa.
My husband & I always love trying out new restaurants & the road where El Toro is situated is always our go to as we had tried other eateries down that line & loved them all. On this specific visit, I was craving Mexican food & so we decided to try out El Toro.
El Toro is basically an authentic latina tapas & tequila bar with an awesome vibe.
The design of this place is simply breathtaking. Just looking at the building from the outside, makes you want to eagerly go in & check it out.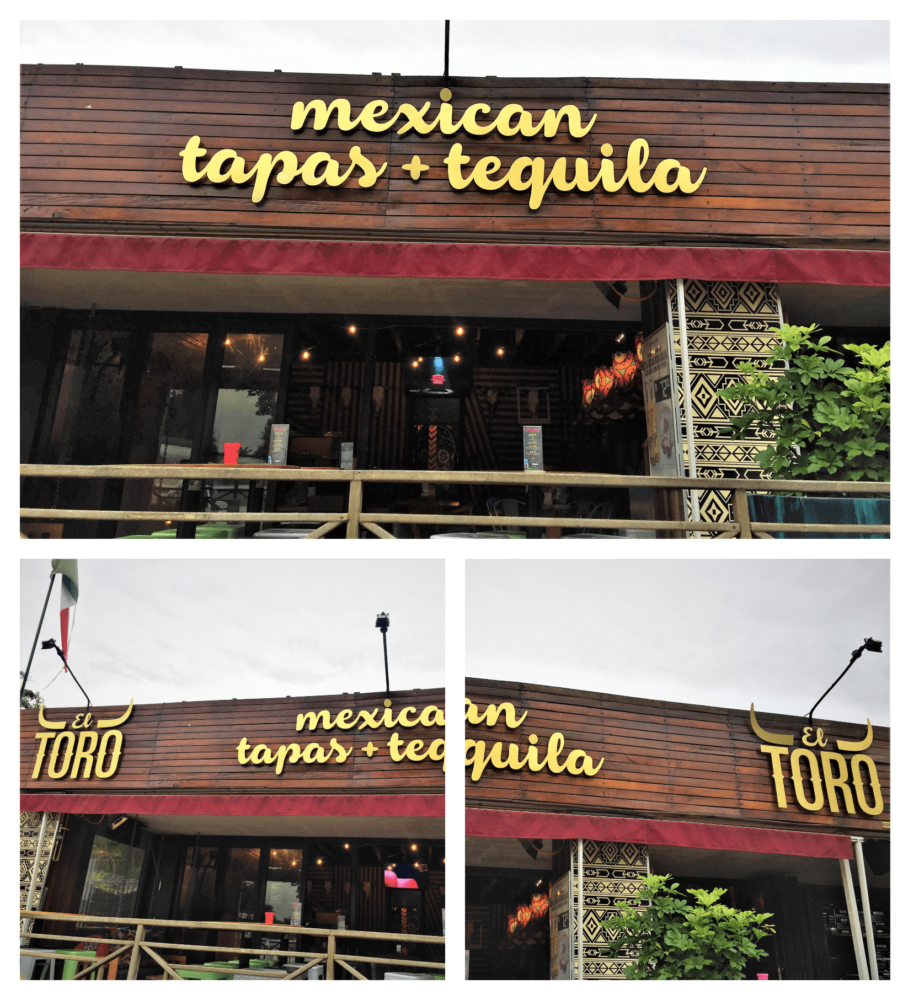 The inside is even more exquisite, from the flooring to the decor. Everything just catches your attention with the vibrant colours. There is so much detail put into the restaurant & that's just every photographers dream to be seated in here – especially if you're a foodie photo addict like me ?. When you're inside this place you actually feel like you're in a restaurant somewhere in Mexico – it's a sensation that will leave you feeling so content & yet so satisfied.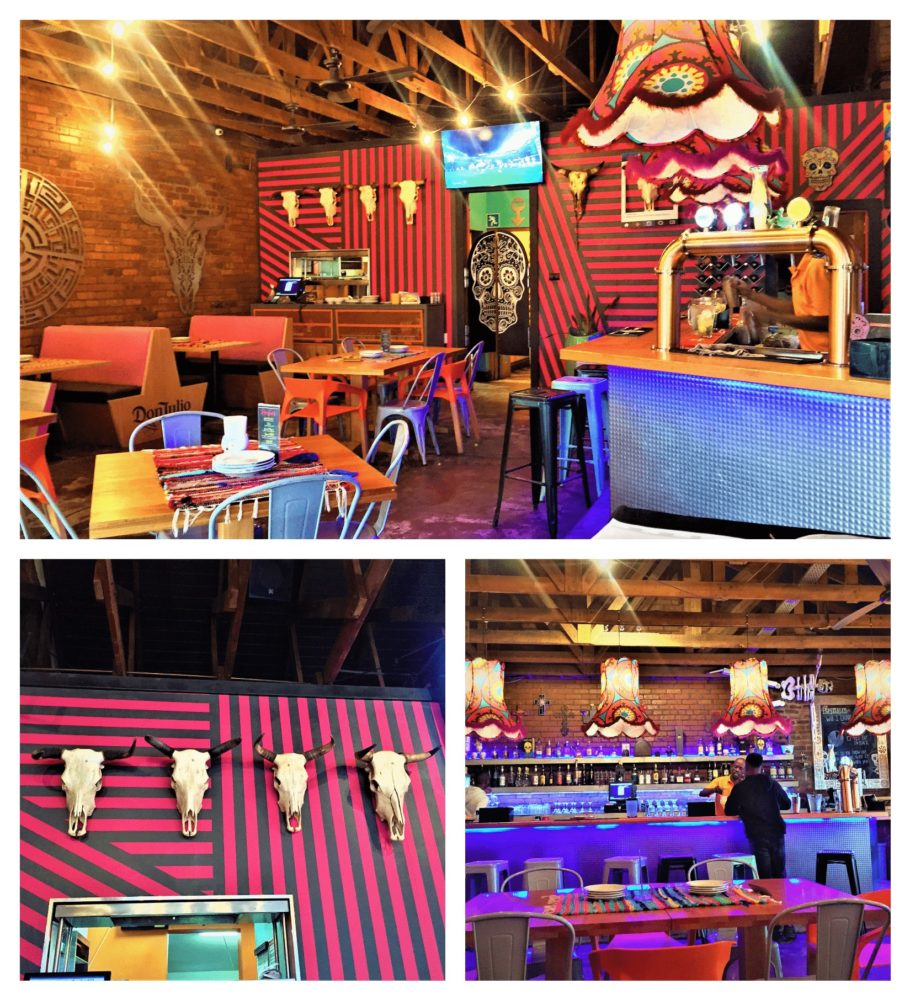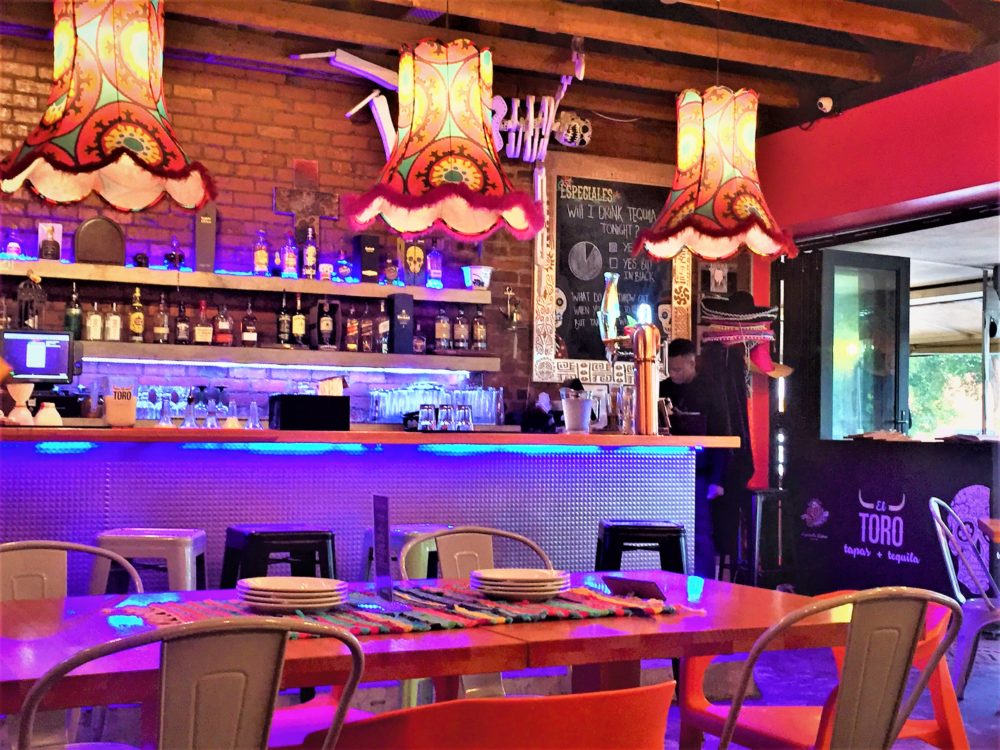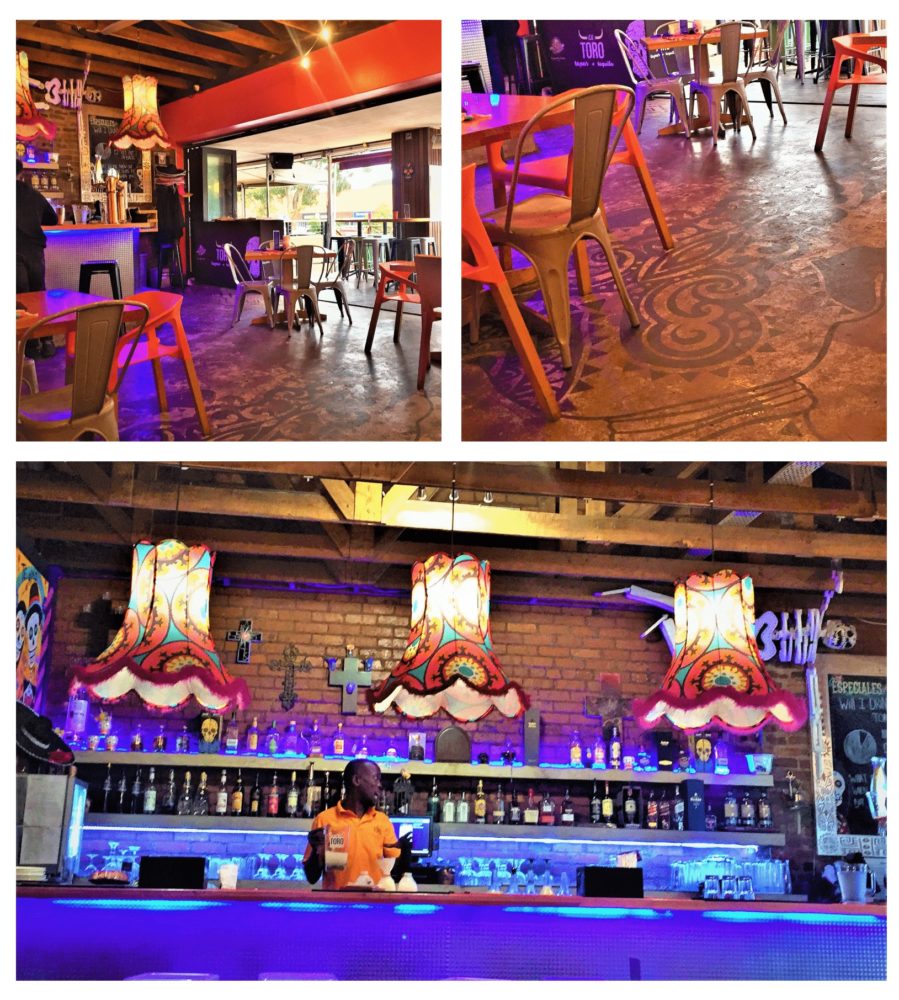 They also have a really cool Instagram post frame on the wall as part of their decor! Now who wouldn't want to hashtag that?
I got so carried away with the designs that I almost forgot to mention the food…
So the prices are a bit crazy but it's so worth it because the food is just as amazing as the place looks. Everything sounded so divine that I wanted to try all at once but that would just be too greedy of me to do, although I did promise myself that I'm going back there to try out many other items on their delicious menu.
Their menus come with these small little clipboards which are so cool.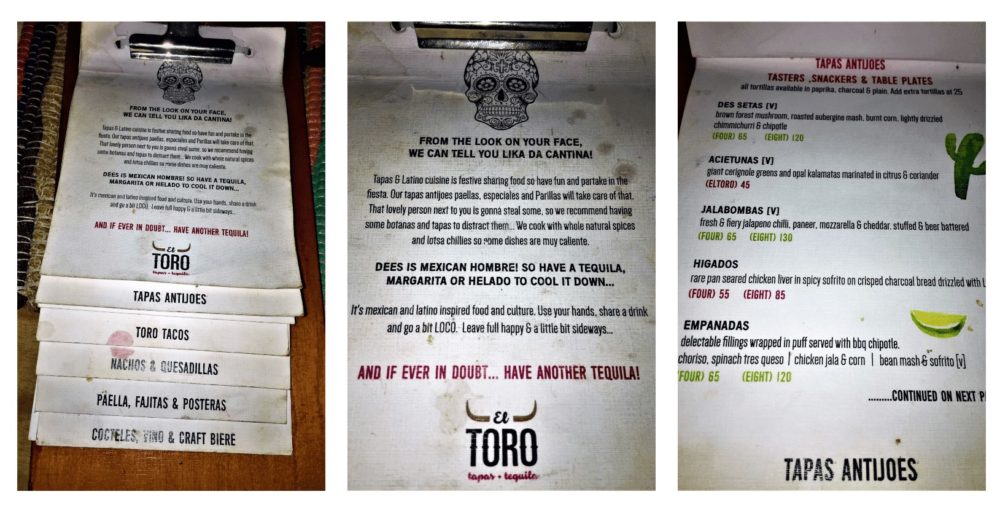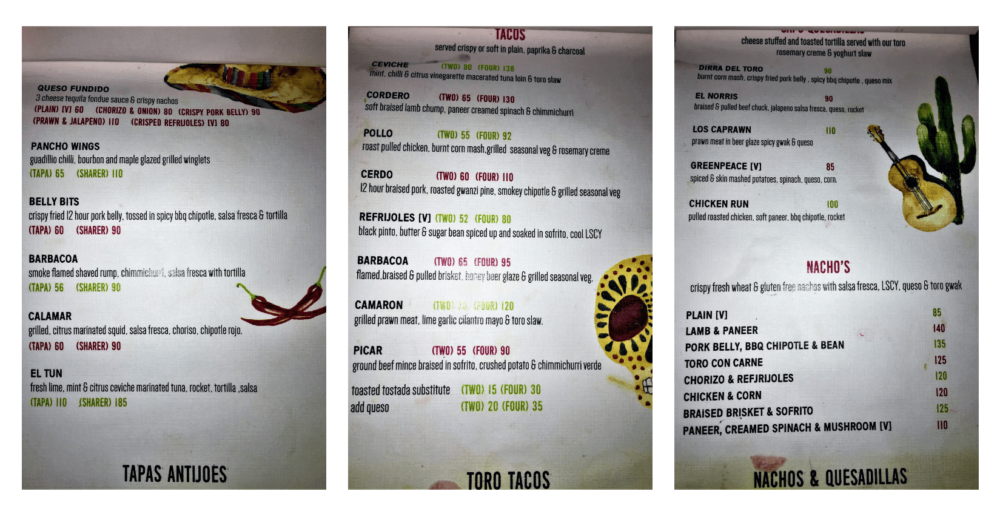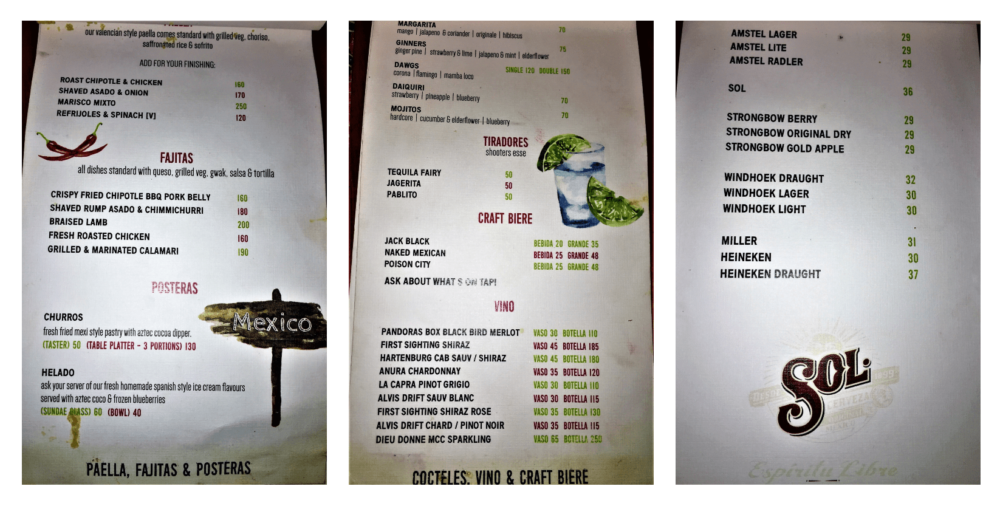 As soon as I was done with all of my photo snaps, we ordered our drinks – it was a super cold day so we weren't in the mood for alcoholic beverages. We stuck to the basics when it came to drinks, hubby had the lemonade & I had the coke.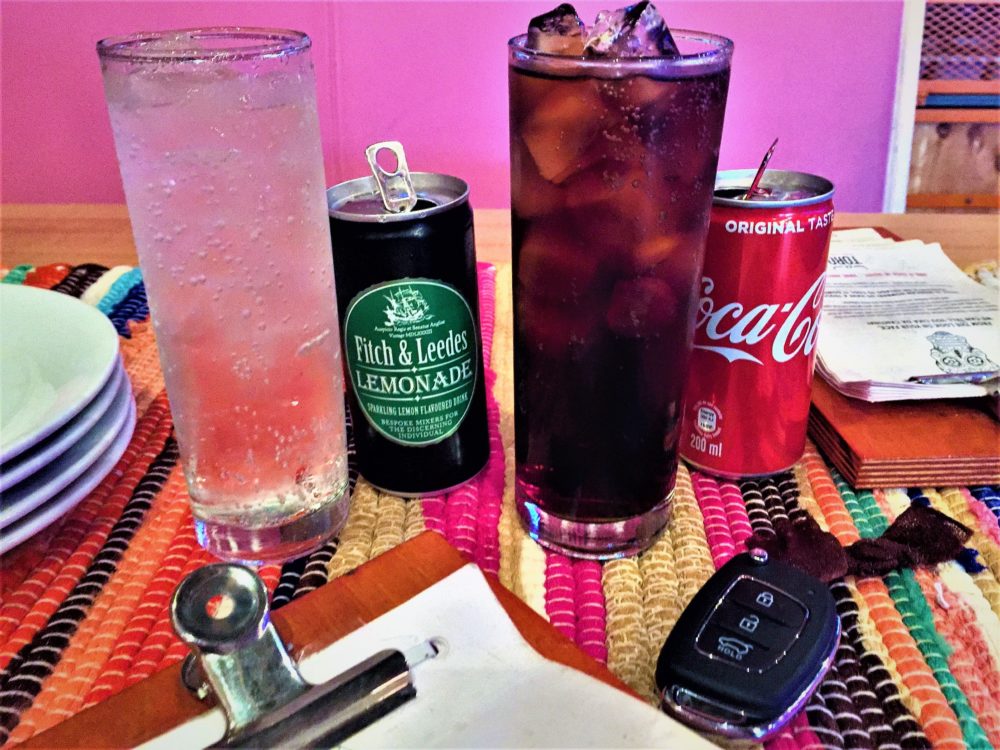 For appetizers we ordered the Higados which consisted of rare pan seared chicken livers in spicy sofrito on crispy charcoal bread drizzled with LSCY – I honestly have no idea what LSCY is but this starter was amazing. The aroma made me drool before I could even taste it & the charcoal bread was crispy & oh so yum. I highly recommend this starter if you aren't sure what you should kick-start your taste buds with.
This dish isn't spicy, in fact it has so much of flavour that it's perfect as it is – although we also got this bowl of a kind of sauce based paste that had crushed chillies in it which was out of this world spicy! I haven't a clue the name of it as I didn't ask the waiter but it is complementary. I love anything that's spicy so I couldn't help it but try some with the Higados – only pair this two if you have your drink on hand because your mouth will go from a ratio of 0 heat to 1000 heat.in a few seconds.
After we devoured our starter, we got our main meals. We ordered the Tacos which are served crispy or soft in plain, paprika & charcoal. We always order soft tacos, so this time we both ordered the crispy ones, I had the Pollo Taco which consisted of roast pulled chicken, burnt corn mash,grilled seasonal veg & rosemary creme.
My Pollo Taco was definitely delicious & it was stuffed with flavour that I bet you would only find in Mexico! The crispiness of the tacos went so well with the filling – although I think this filling would have tasted way better with the soft taco.
Hubby ordered the Picar Taco which consisted of ground beef mince braised in sofrito, crushed potato & chimmichurri verde. Now I did taste his & my goodness was this the best taco! It was even better than my Pollo Taco. If you're craving them tacos then make sure the Picar Taco is on your must try list. The ground mince was full of flavour & the other ingredients just made this dish so perfect. It sure went well with the crispy taco too.
We were so stuffed to fit in dessert so we will definitely be heading back to El Toro for more of their yumminess.
      Opening Hours & Details El Toro: