14 ON CHARTWELL
---
This EatView Is On 14 On Chartwell In Durban, South Africa
---
If you're looking for a place for fine-dining with a localized twist & an amazing culinary experience then 14 On Chartwell should definitely be ticked off on your bucket list. They are situated on Chartwell Drive, Umhlanga, Durban, South Africa.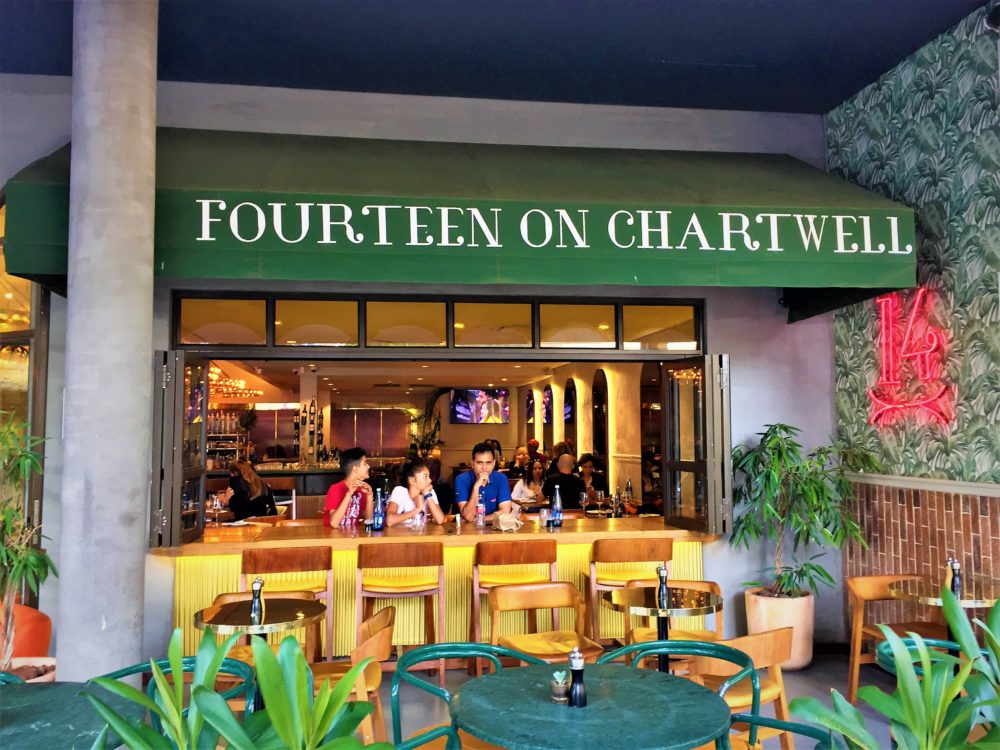 14 On Chartwell is situated on the bustling road of Chartwell, whereby a lot of day & night activity take place. This restaurant isn't one to miss, with their retro modern look, large open windows & an ever so inviting entrance.

This refined restaurant literally got their name by their address – 14 On Chartwell (Drive). The number 14 on the outside pole takes me back to those 70's & 80's American movies. These simple details just adds an opulent look to this eatery.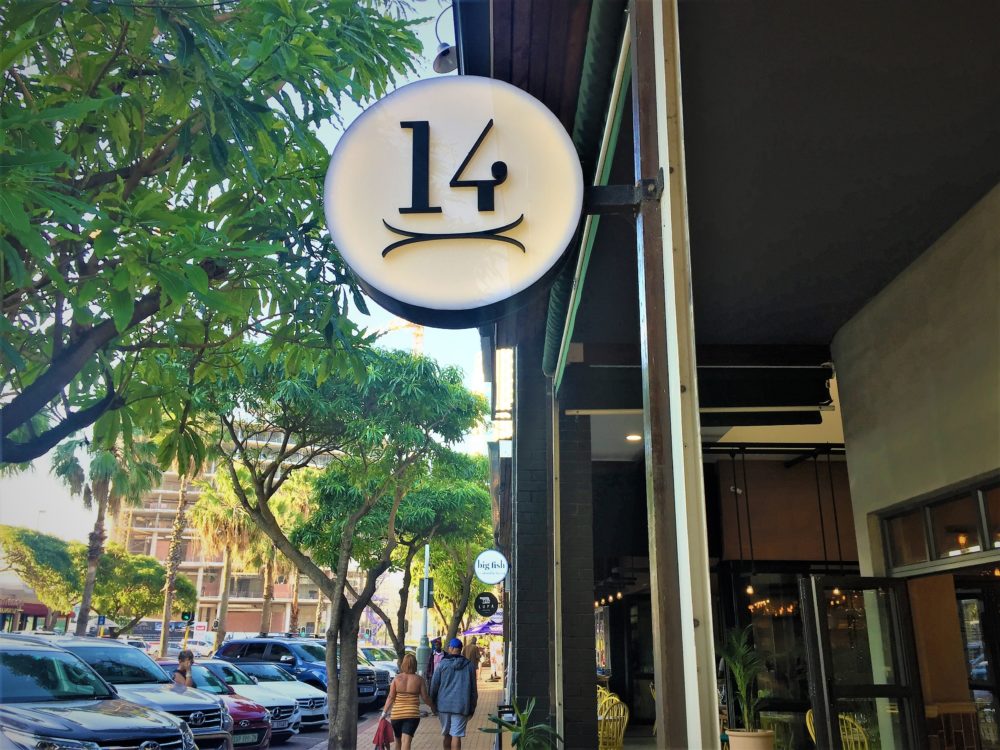 On your walk into 14 On Chartwell, you become mesmerized with the lighting. This is truly an amazing sight that makes you go "wow" – trust me I've said it on my arrival.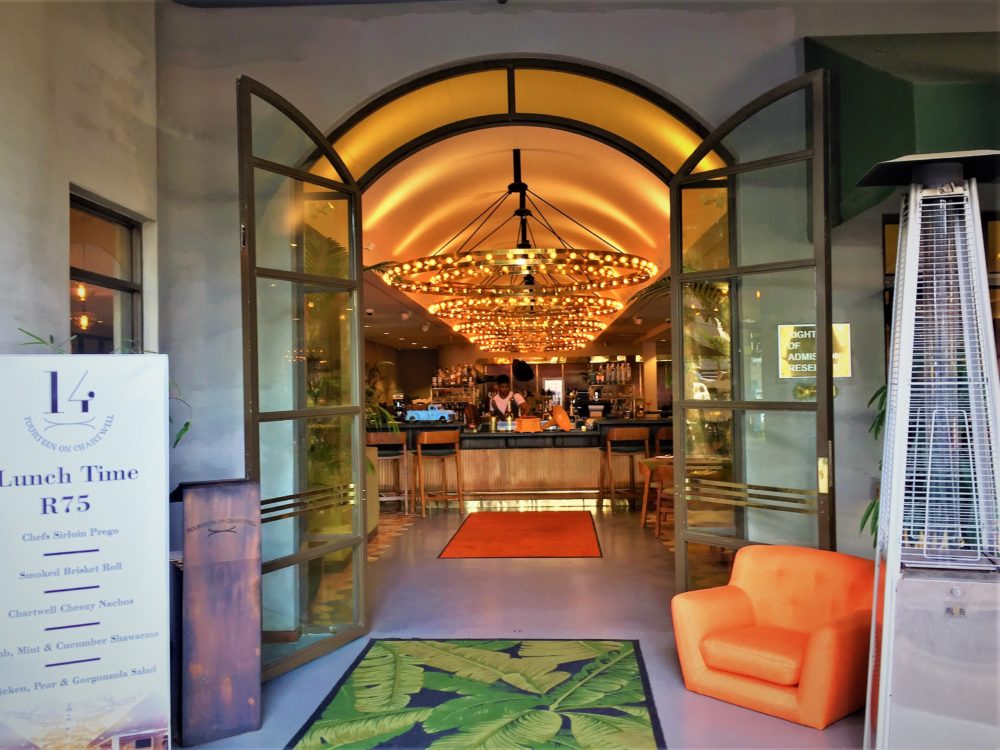 After being hypnotized with the lighting, straight ahead you will find yourself astonished by their brilliantly designed 360° style bar which is stocked with a variety of alcoholic beverages. If you love the booze then 14 On Chartwell has got you covered. This bar makes you feel like you deserve to be seated there, especially after a long & tiring week. Take note though, on Friday nights, 14 On Chartwell is super busy as everyone loves this place so much that you most probably would have to make a booking in advance if you want a spot. Saturday nights as well can be a bit noisy with lots of party goers enjoying their night away.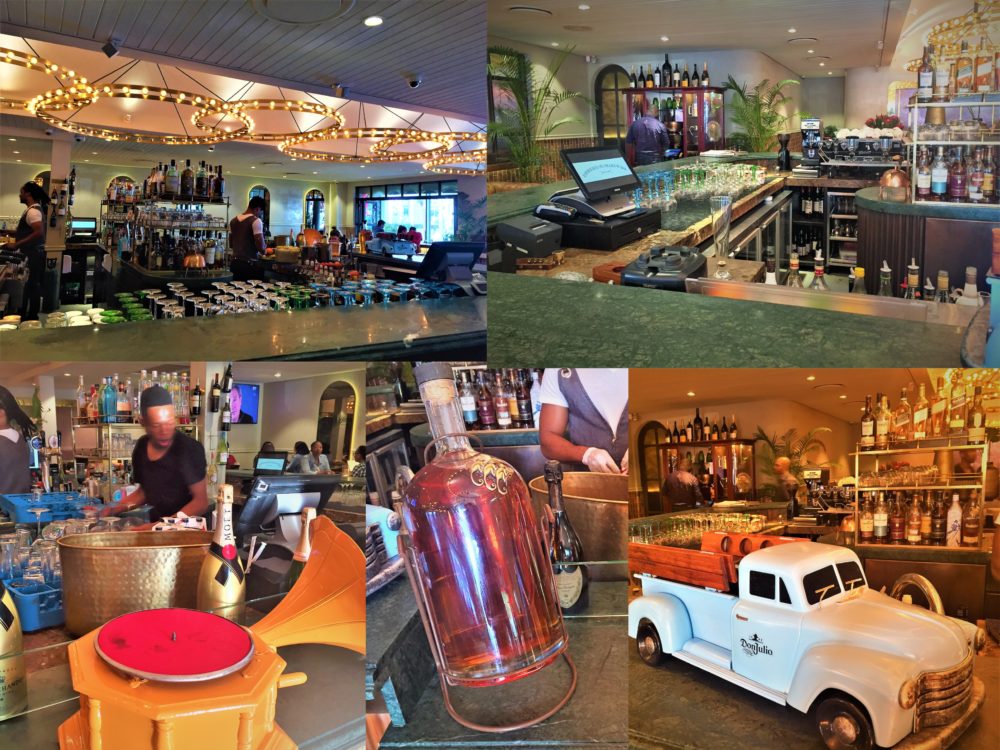 Their seating areas are quite cute & comfy, my husband & I chose to sit in their lounge area. This area has a green, fresh look to it, with chairs as well as soft, bouncy sofas with throw cushions as a backrest so that you can feel at home. As soon as our waitron seated us, I felt so relaxed & calm with a tummy geared up, awaiting to taste their food.
The staff were absolutely friendly. When we received our menus, I was in awe by the dishes that were on it. Being a food blogger, I wanted to try out everything but I wasn't going to be greedy. For the drinks, my husband & chose to go for non alcoholic beverages as we were doing lunch. I had a plain old coke & he opted for cola tonic & lemonade.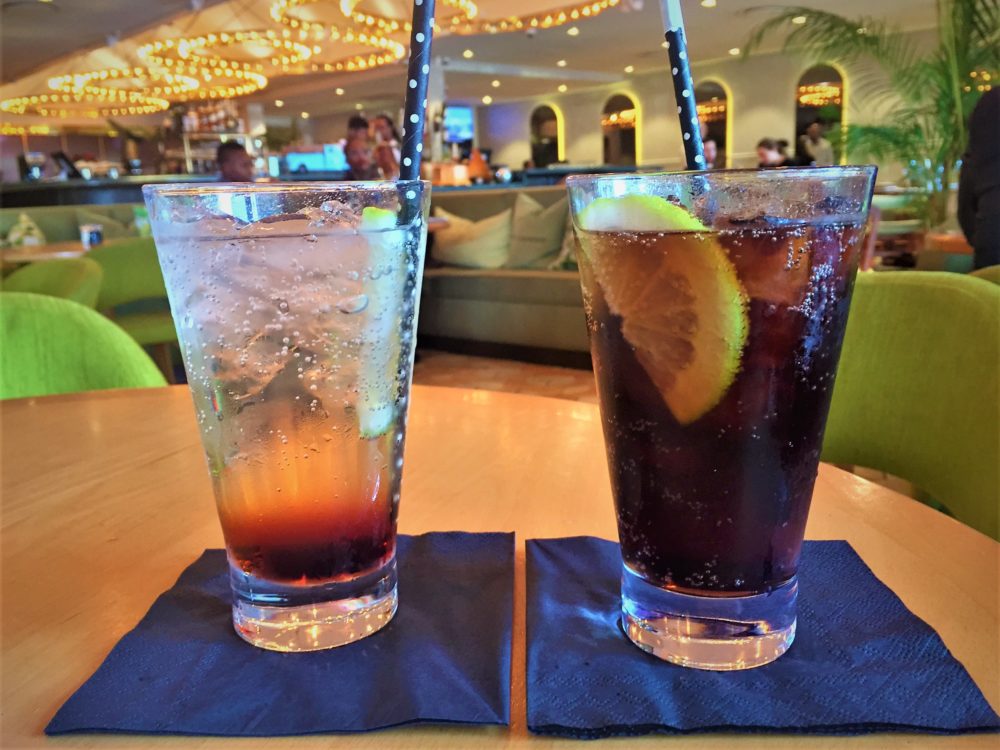 I looked through the menu trying to figure out what I should start my palette off with. At first glance I spotted their Nacho-Crusted Chicken Breast Strips which was being served with Sriracha mayo, guacamole & sour cream. I'm a sucker for anything Mexican styled but at that point I couldn't resist to allow my mouth to salivate just by reading the other appetizers offered on their menu. I was completely undecided, but alas after 10 minutes of deciding, I opted to go for my first option of the Nacho-Crusted chicken strips. As they always say – always go with your instinct (in this case, it was my first choice).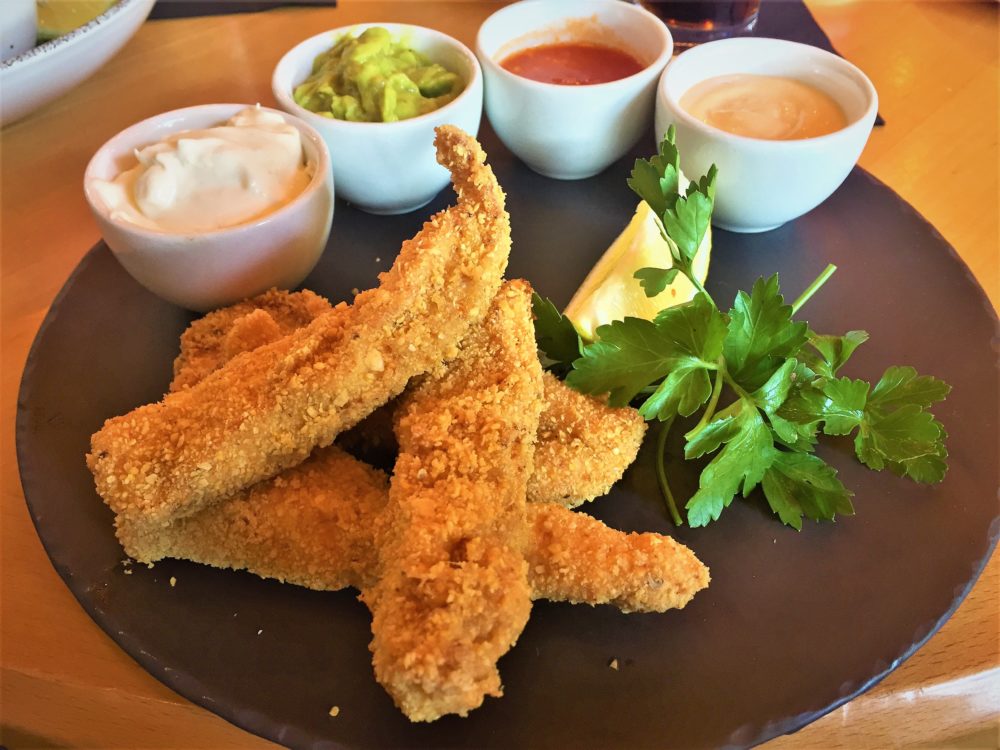 Let me just say that when it arrived, it was piping hot, the best chicken strips I have ever eaten, hands down! The chicken was moist & succulent, the crumbs weren't overly fried, it was just perfect. Every bite into it, I just sighed with utter content. The sides on the other hand was even more delicious than expected. The guacamole was so fresh, it felt as if those avocados were hand picked just before preparing it. The sour cream was really creamy & good. The best side on that plate though was the sriracha mayo – oh my word, I could literally eat that just by itself. I also noticed that I got a bonus sauce with that meal which was not mentioned on the menu, it was a red dipping sauce, not spicy but a mild touch of sweetness to the palette. Kudos to 14 On Chartwell for giving out bonus sauces or was I just lucky?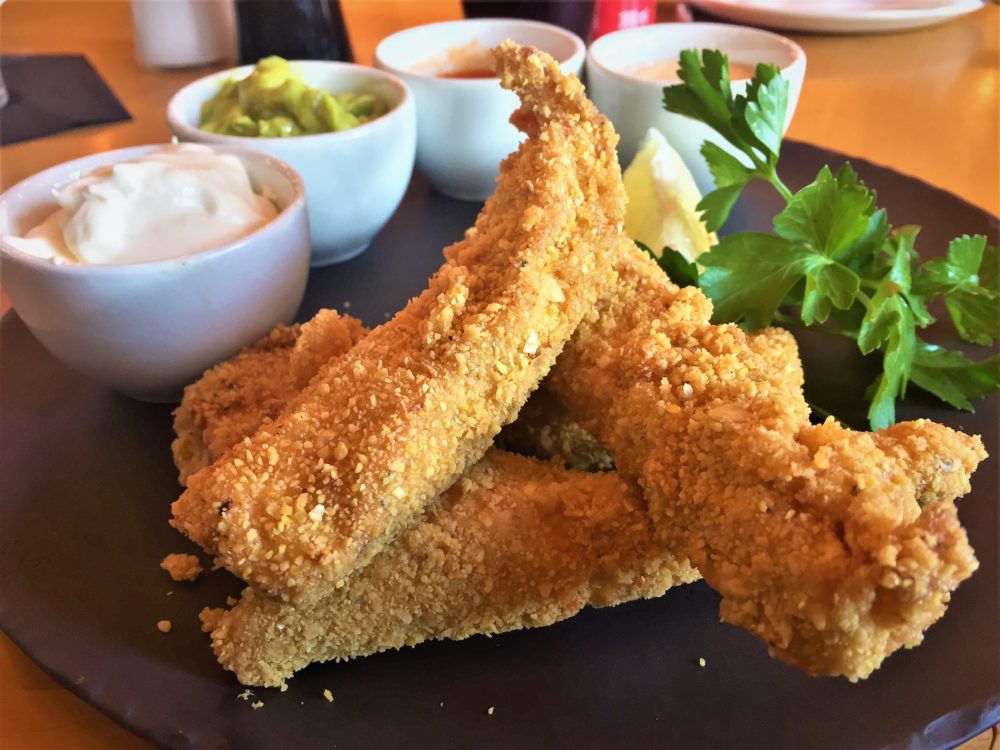 Hubby on the other hand is completely the opposite from me. He knows just what his tummy requires so there wasn't any scrolling around for him when it came to the starters. He opted for the Chartwell Chicken Wings which came with a sriracha honey, blue cheese dipping sauce.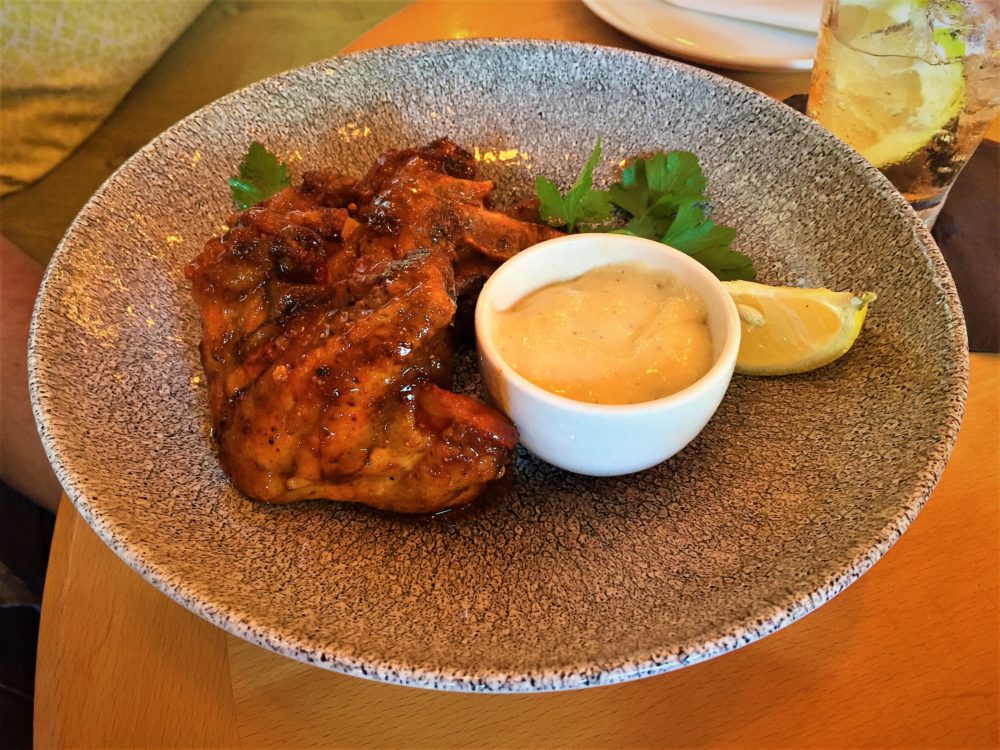 Now those chicken wings looked divine! I had to sneak a taste in there. The chicken wings were so perfectly cooked & that blue cheese sauce was the ultimate add on to that dish. I mean, I have never had a sauce that tasted as good as that in my entire life! You're probably thinking well, it's just a sauce, but heck no, it's not just "a sauce", you've just gotta try it out for yourself.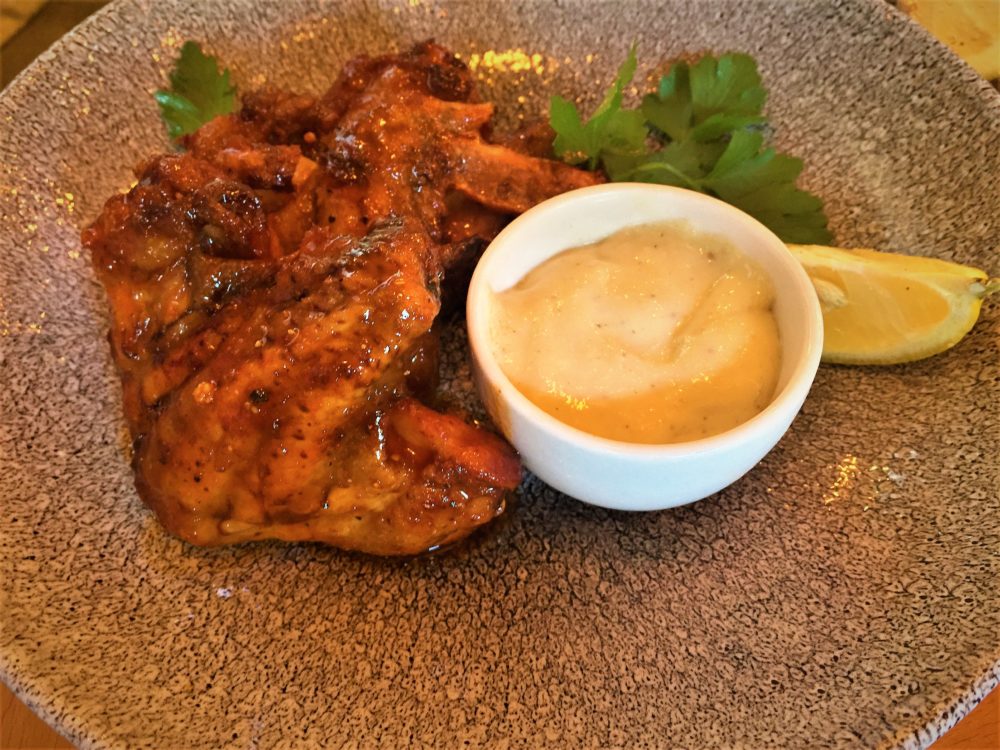 After our piquant appetizers, our waiter brought along finger bowls for us to rinse off our hands. Not many restaurants take the time to offer this to their customers, so I was really delighted that we were so well-treated. Nobody prefers wet wipes over a warm bowl with lemons to sanitize their greasy hands. Really want to commend 14 On Chartwell for this simple gesture.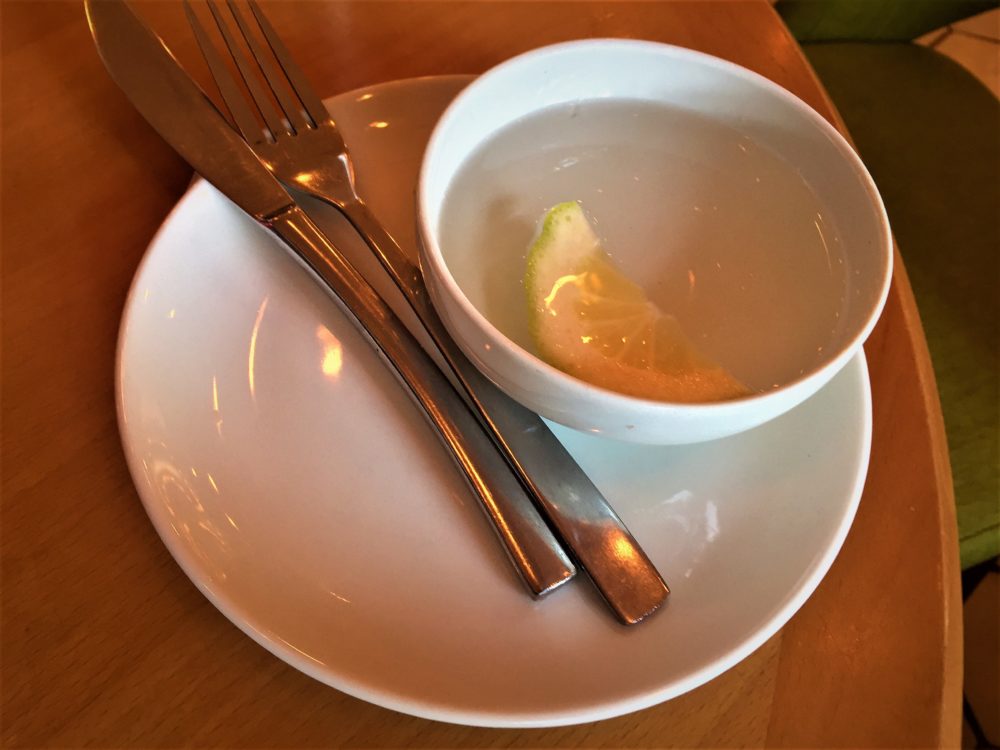 For mains, I was once again baffled on which dishes to choose from because 14 On Chartwell have such a variety when it comes to their main course. I was actually stuck between trying out their Lamb Shank Pie or their Cubed Rump & Yorkshire Pudding. I love lamb shanks but I actually do love Yorkshire Pudding even more so that made my decision a little easier at the end. Yes, I opted for the Cubed Rump & Yorkshire Pudding which was served with wild mushrooms, red wine Jus, chakalaka & fries.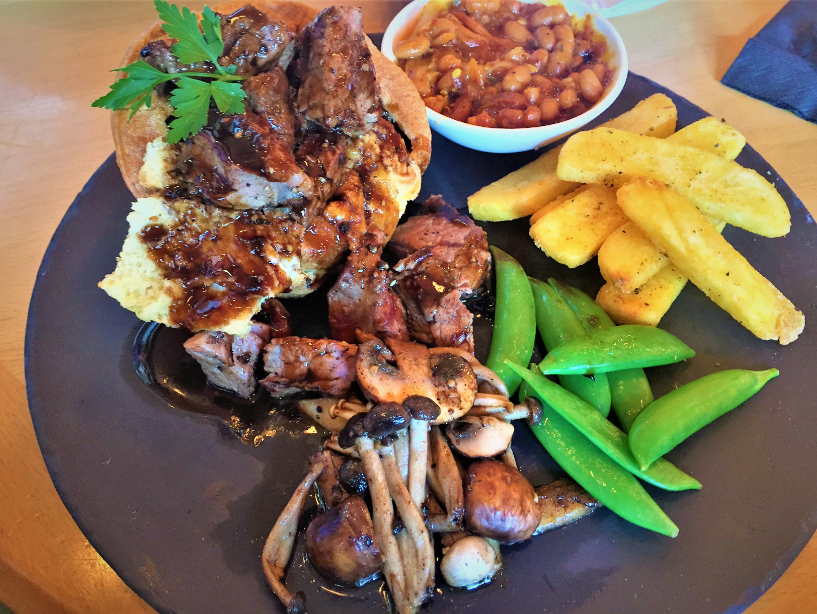 This meal was definitely the best choice I made. On my first bite, my eyes literally closed as the feast of flavours exploded in my mouth. The Yorkshire Pudding was done to absolute perfection, it was soft, airy & as British as it will ever get. The red wine Jus paired so well with the rump. The wild mushrooms were fresh & flavorful as well. The chakalaka was so so divine that I wiped the bowl clean. These mix of flavours was such an impeccable pair, they all really fitted well together. Bonus once again – I got some snap peas on the side as well! These were so yummy & not forgetting fresh, fresh, fresh.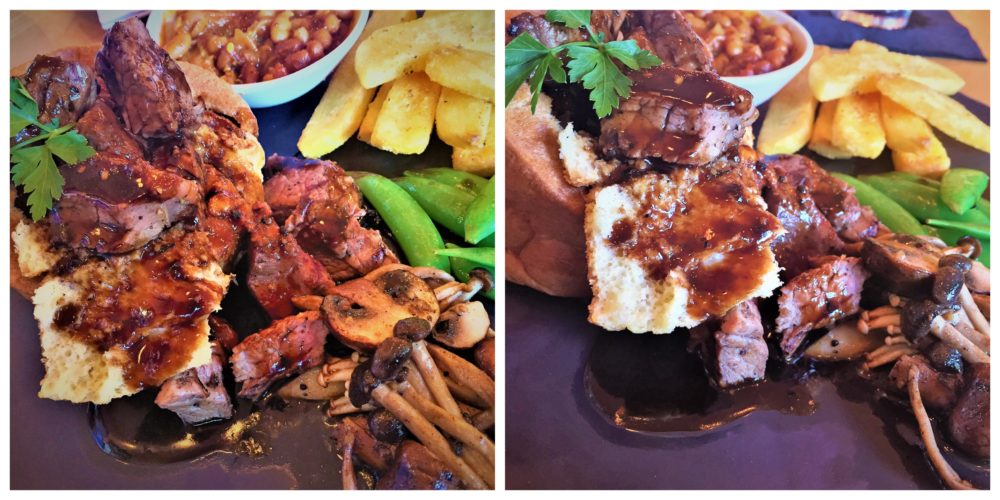 For main, hubby chose the Prawn Linguine Pasta –  his a lover of prawns so this decision once again came easily to him.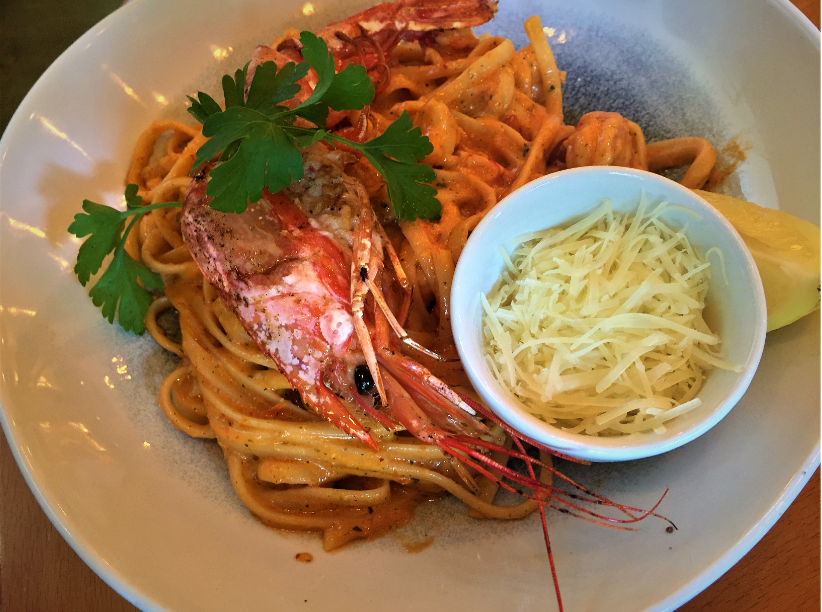 I yet again sneaked in just a small taste, & the pasta was so scrumptious. The creamy sauce tossed into the al dente pasta & perfectly cooked prawns was a taste you can never go wrong with. The waiter said that this pasta is one of their signature dishes & they sell out just like their tequila. My husband thoroughly enjoyed his meal.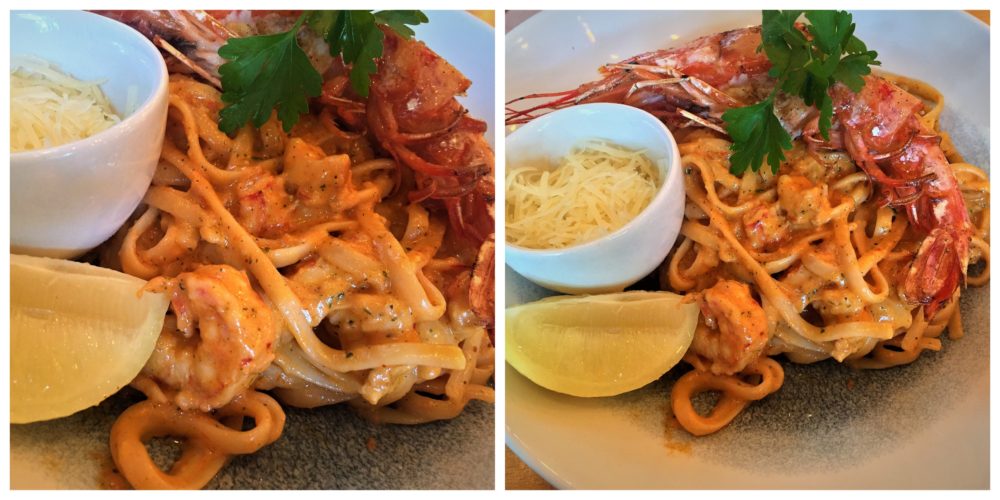 We both were extremely stuffed, yet extremely satisfied with the food at 14 On Chartwell so we didn't have space left for dessert. We definitely will be going back here though because there are many other delicious, mouthwatering dishes that we still need to try out.
The manager, Brian, was so friendly & always made his rounds to each table just to check up on the customers. He also took the time to have a conversation with us whilst waiting for our main course. Really welcoming & social staff all round.

The head chef Jeane deserves an award for the utmost pride & etiquette that goes into preparing these gorgeous & exquisite meals. 14 On Chartwell is a gem when it comes to food, so of your just need a break, a perfect spot for date night or a romantic lunch, a hangout to make memories with friends & family or a great night life chill spot then this place is a must try.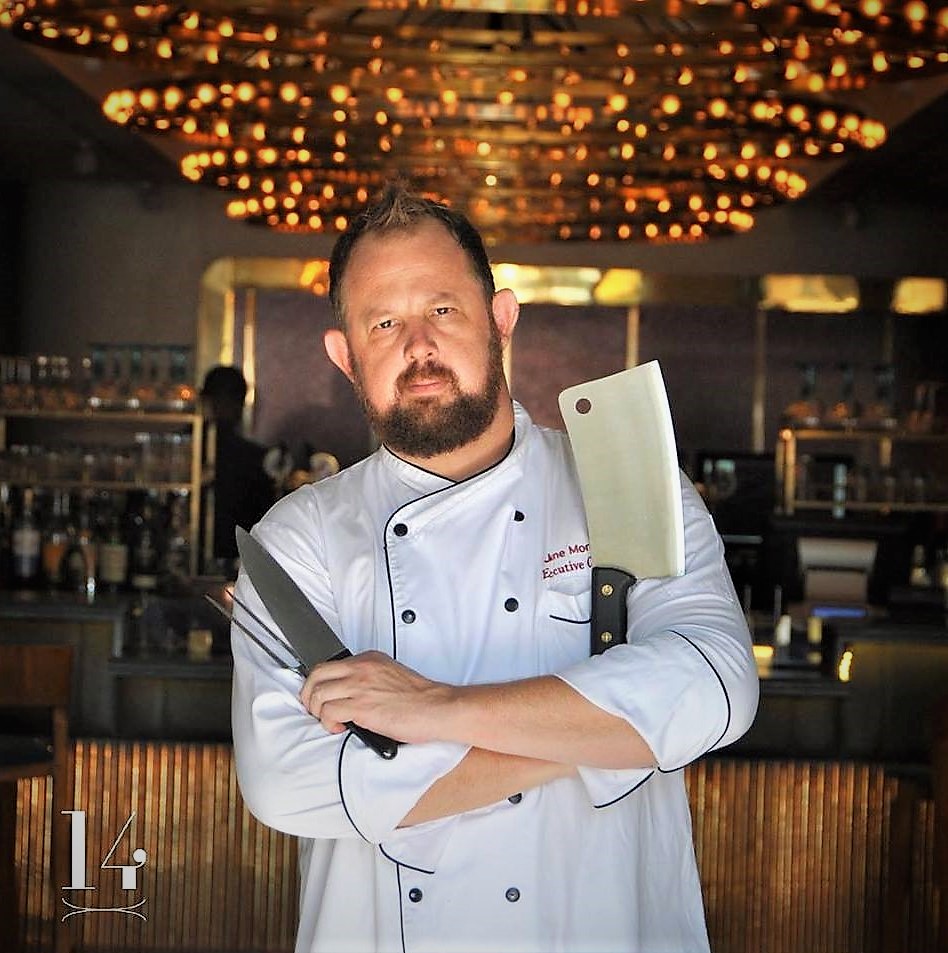 14 On Chartwell Details: