HUNGARIAN TART
---
This Recipe Makes 9 Squares

---
Hungarian Tart (Krummel Tert) is a delicate biscuit (cookie) like treat (similar to short crust pastry) spread with jam & finished off with a crumbly top layer. In spite of its name this treat has no relationship with Hungarian food yet remains a South African favourite. Most Indian households in South Africa will remember this treat as Jam Tarts.

It's not excessively sweet, has great surface with the jam in the middle, the buttery base & the faint crunch from the top layer of ground dough. A couple of squares of this with a some coffee/tea, is immaculate paradise.
This recipe is fairly simple & not forgetting really quick to make. If you're expecting guests at the last minute, this is an ideal treat to prepare as it does not take up much of your time.
Hungarian Tart Ingredients:
2 cups flour
2 tablespoons icing sugar + additional for decorating
1 egg
2 teaspoons baking powder
½ teaspoon vanilla essence
125 grams butter, room temperature
2 tablespoons vegetable oil
Jam of your choice for spreading (I have used strawberry jam)
Method:
Firstly, preheat oven to 180°C.
Crack the egg into a small bowl.
Beat the egg using a fork & set aside until ready to use.
Add the butter into a large mixing bowl. Make sure that the butter is at room temperature as this makes a smoother mixture.
Add the icing sugar to the butter.
Cream the butter & the icing sugar using a spoon. I prefer using a wooden spoon for this process.
Once creamed, add in the vegetable oil.
Next, drop in the vanilla essence.
Mix well until all the ingredients are combined.
Next, add in the beaten egg to the bowl of creamed icing sugar.
Mix a little. You should end up with a lumpy mixture.
Thereafter, sift in the flour & the baking powder.
Once sifted, mix generously, combining the ingredients well.
The mixture should be crumbly at this point. Don't worry, it will get smooth in a bit.
Now its time to get your hands messy, begin kneading the dough until soft & smooth.
Once the smooth dough is formed, separate the dough into two parts. I usually use a bigger piece of the dough for the base & leave aside a smaller piece to grate at the end.
Using the bigger piece of the dough, spread it evenly on a greased baking tray.
Using a fork, prick the layer of dough.
Now it's time for the main ingredient, the jam. Spread a nice amount of any jam of your choice over the pricked dough. I personally love strawberry or mixed berries jam so I have used strawberry jam in my Hungarian Tart.
Remember the smaller piece of dough that was set aside? It's time to grate that dough over the jam. This will create the crumbly effect.
Once the dough has been grated over, it's ready to be baked.
Place the baking tray into the pre-heated oven & bake for 30 minutes.
When it has finished baking, it will be golden on the top & give off a delicious aroma.
Whilst the tart is still hot, grab out your sifter & gently sift over a little icing sugar.
Now that they are finally ready, slice it up into squares & serve.
I have cut my Hungarian Tart into 9 squares, you can cut them up into smaller squares if preferred, just be sure that their not too small as they might crumble.
Notice the layers in-between once you have sliced them.
Goes best with a hot drink, preferably tea or coffee. This treat can also be served with a dollop of ice cream or whipped cream.
To store these Hungarian Tarts, simply line an airtight container with wax paper & gently lay the tarts in. It can be stored for up to two weeks.
Quick Tip: Substitute the jam for apples to make an apple crumble.

Summary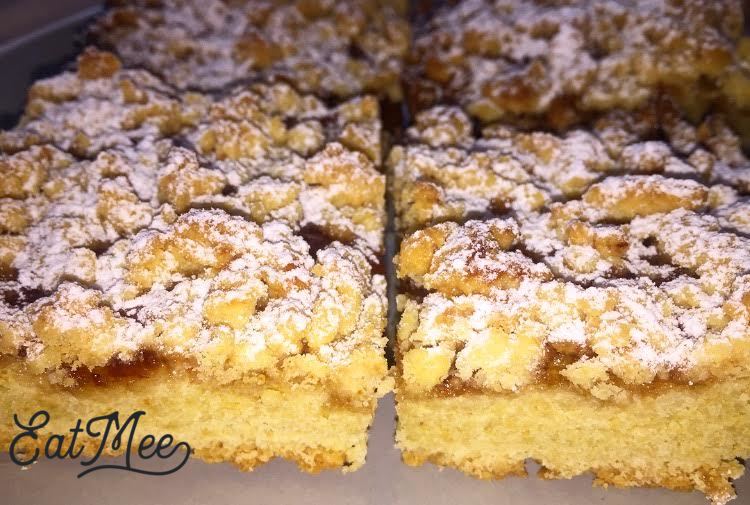 Recipe Name
Published On
Preparation Time
Cook Time
Total Time
Average Rating
Based on 1 Review(s)
Comments
comments