NAYAAB HAANDI
---
This EatView Is On Nayaab Haandi In Dubai, United Arab Emirates
---
Nayaab Haandi – Whenever I hear this name, I get hungry even if I've already eaten! This restaurant is situated in Dubai. They have different branches & the one that I always visited was in Al Wasl Road, Al Badaa، Next to Al Ghazal Mall, Near Iranian Hospital – Dubai – United Arab Emirates.
This restaurant has got to be by far my favourite restaurant in Dubai, yes there are much more extravagant ones with awesome food but as most of you know, I lived in Dubai with my family for quite some time & I missed South African food. Don't get me wrong, we cooked at home with all of our SA spices but sometimes you just want to eat out & in Dubai, there aren't much eateries with the taste similar to South African style curries.
Nayaab Haandi is actually a Pakistani Cuisine restaurant but the food is to die for. I honestly wouldn't mind eating at this place for the rest of my life.
So let's get started on their seating area. It is very spacious, the seats, the decor, the building, everything looks like it came out from a luxurious magazine. There are plain & padded seats so you can feel at home & enjoy your meals in comfort. It's your choice where you would prefer to be seated.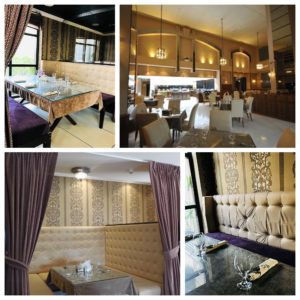 When visiting Nayaab Haandi, you have the option of ordering specific individual meals or you can choose their buffet menu. Now, I have never chosen individual meals off their menu, I'm more of a buffet kinda girl so I have always had their buffets & have always loved it. You can eat as much as you want so be sure to go with an empty stomach because this food is definitely worth devouring.
When you choose the buffet option, you get a free basket of naan breads as well as a gigantic naan on some kind of iron suspension & wait for it….authentic Pakistani chicken haandi served in a really gorgeous bowl & a BBQ grill which has these awesome varieties of kebabs such as chicken seekh kebabs , mutton seekh kebabs, lamb chops, chicken malai & chicken tikka which are flavorful & succulent.. Who doesn't love kebabs & naan?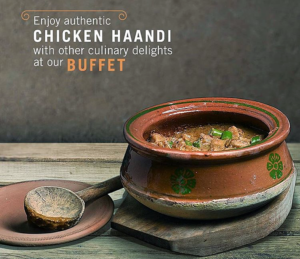 Their buffet menu is awesome, it ranges from starters, mains to desserts.
My absolute favourite from their buffet has got to be their Chapli kebab (Peshawari kebab) which is made from ground meat with spices & molded in the shape of a patty & of course fried. The spiciness in these kebabs are just remarkable.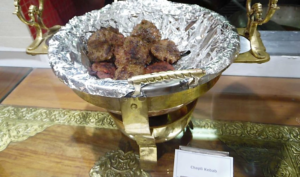 I have to admit, I do have another favourite. It's their super divine cheesy naans. The taste is like no other.
These are just a few of their dishes included in the buffet menu.
Finally I have to tell you about my favourite dessert choice. It's called Ummali & it's usually found at most restaurants in Dubai as it is an Arabic dessert. It has a sweet & nutty taste yet it is creamy & decadent. This dessert unfortunately is only served on weekends at Nayaab Haandi on the buffet menu.
The next time you book Flights to Dubai, make sure to give this restaurant & try & if you're residing in Dubai & haven't tasted these mouth watering meals then make your way over there. You can find them in Al Wasl, Dubai, Al Khan, Sharjah, Al Nahda, Sharjah & Al Mujarrah, Sharjah.
      Opening Hours & Details Al Wasl, Dubai: