BOHEMIAN BEACH BUMZ
---
This EatView Is On Bohemian Beach Bumz In Durban, South Africa
---
Have you ever been to your happy place, where you feel extremely calmed & relaxed? If not, I have just the place for you! Head down to Bohemian Beach Bumz on Florida Road, Morningside, Durban, South Africa.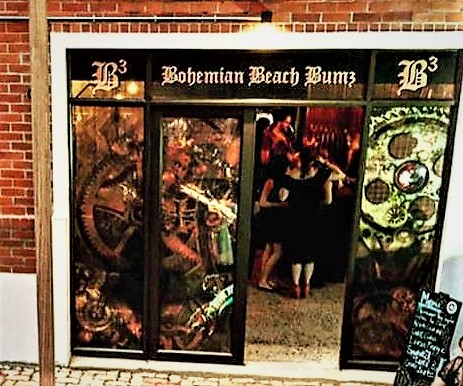 This amazing Coffee Shop is situated at Florida Fields in Morningside.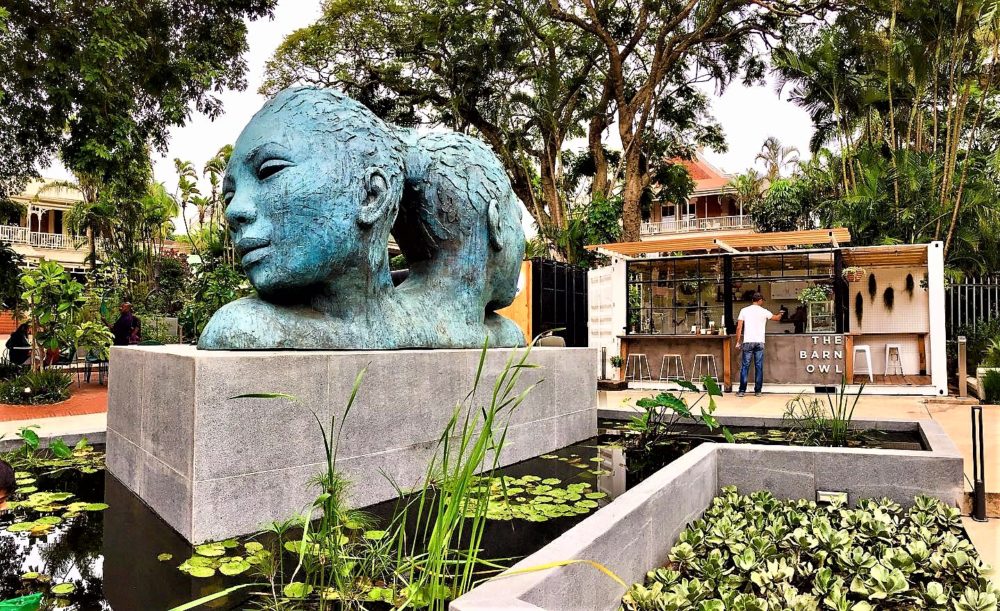 Bohemian Beach Bumz isn't difficult to find. Once you're in Florida Fields, simply walk to the end of the premises & you will find this store on your left.
It's a chilled vibe with a calming ambience of warm lights, cozy seatings inside so you can put your feet up & enjoy every moment.
The outside area caters for large groups as well – I prefer more company when visiting Bohemian Beach Bumz, it just adds to the fun memories being created. The outside area also caters for smokers so this is the ideal place to grab a seat if you're intending on spending many hours at this joint – no pun intended!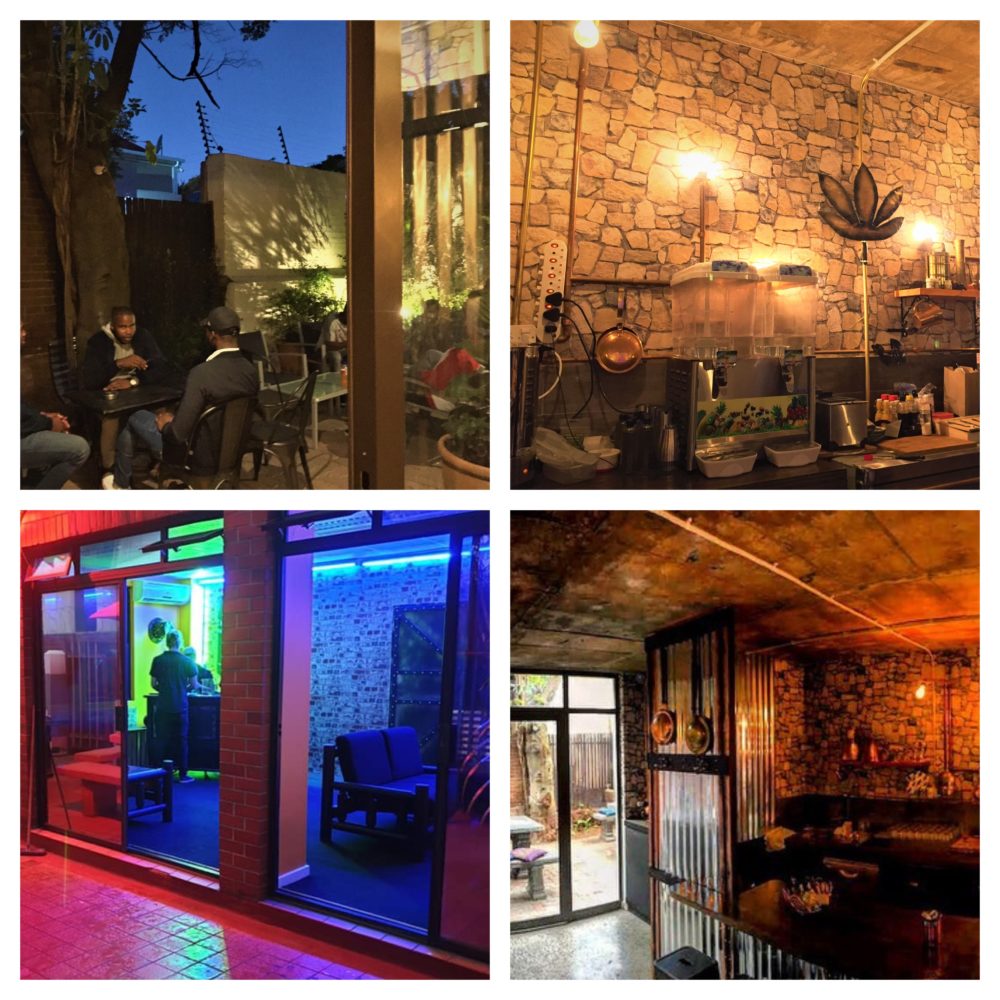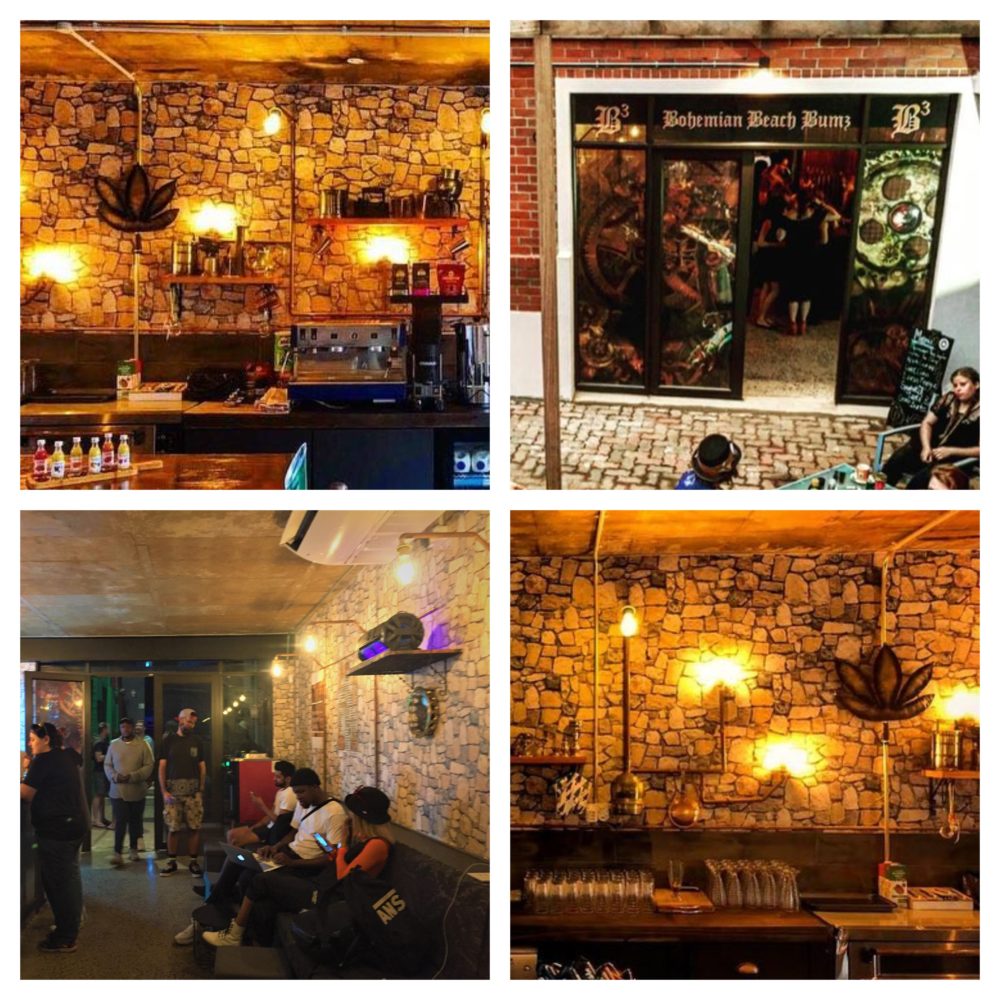 What exactly is Bohemian Beach Bumz? They are a coffee shop that serves edibles which contain cannabis – also known as weed, marijuana, pot, grass, ganga, 420, blaze, dope, herb, joint, blunt, & many more. or if you're in Durban, then typically "Durban Poison".
Bohemian Beach Bumz serves a wide array of hot drinks, such as Milo, Hot Chocolate, Latte's, Cappuccinos, Mochachinos, Chai Tea & more, all of which are infused with cannabis.

It was a cold night out, so I chose to heat up my mood with some delicious Hot Chocolate. It was absolutely creamy & chocolatey of course. Although their drinks contain cannabis, you can hardly taste any in their drinks. Be warned though – too many could leave you laughing for no reason.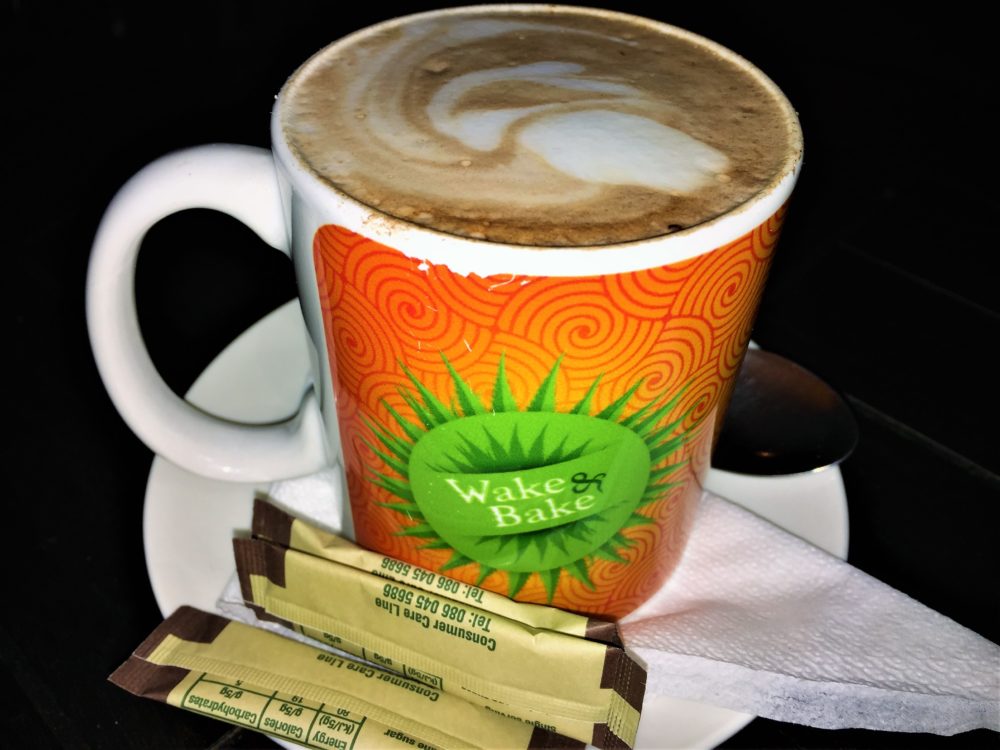 Bohemian Beach Bumz also have these great
Herbal Fruit Syrup Concentrations
. Simply add a bottle of water & one of their infusions, & you have some
magic fruit juice
, & a
magical day
! Their flavours include: Mango Apple, Peach Apricot,
Pineapple, Granadilla, Mango & Guava.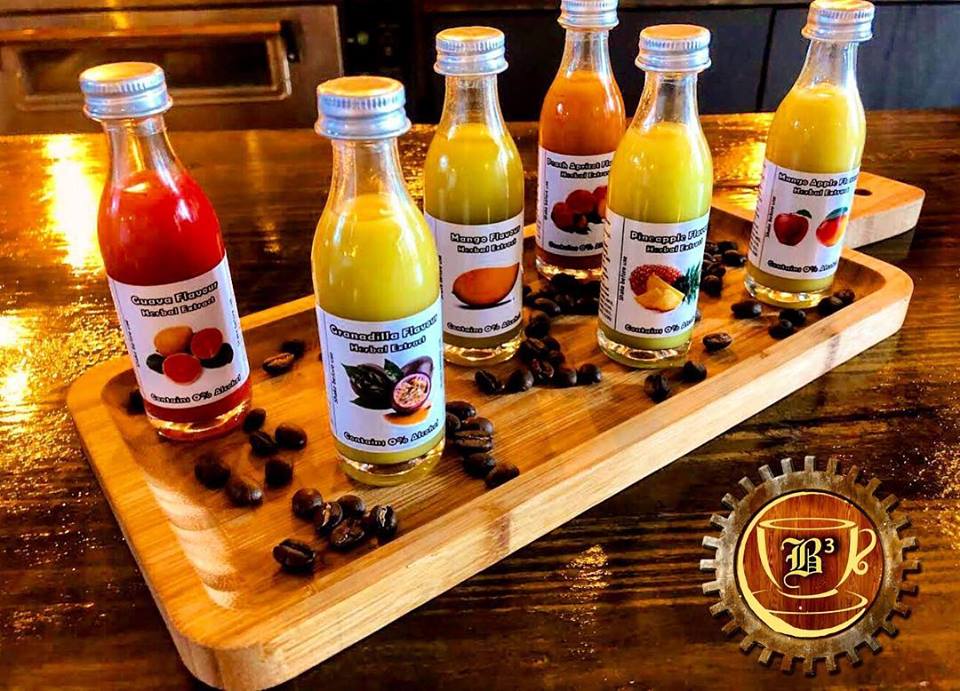 Apart from Bohemian Beach Bumz delicious drinks, they have chocolate! Who doesn't love a good chocolate right? These melt in your mouth babies come in different flavours & yes you guessed it, they all contain cannabis as well.
I opted for the plain chocolate as I'm not too fond of flavours, maybe on my next visit I will give another flavour a try. I had 2 pieces of the chocolate & my word were they delicious. There is however an aftertaste but I ain't even complaining, it was so worth it.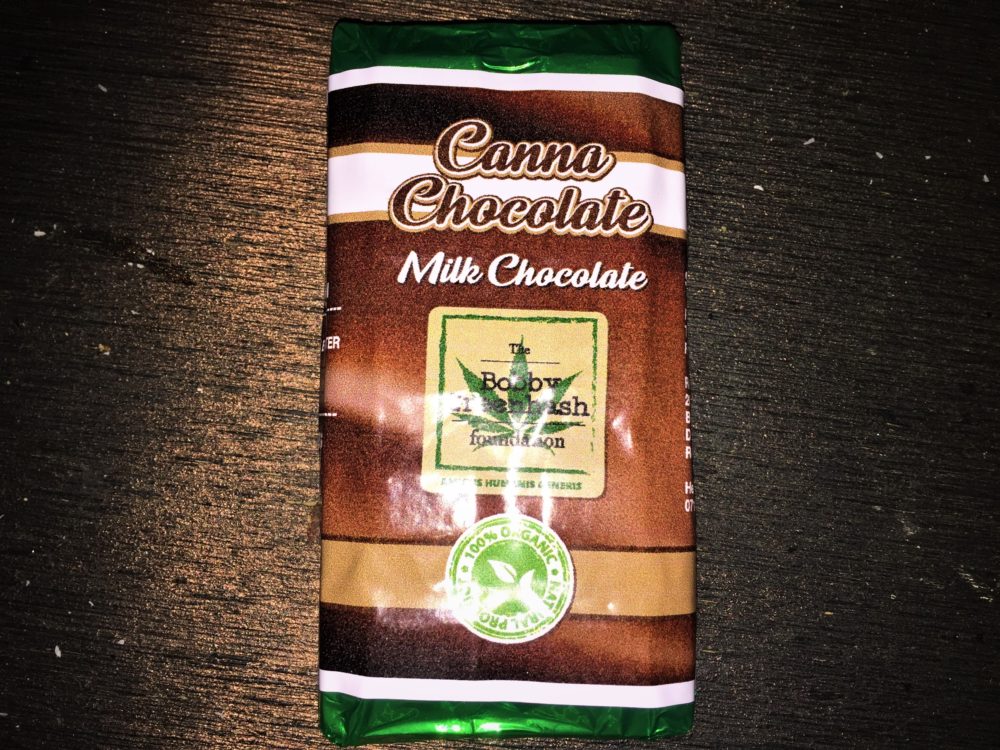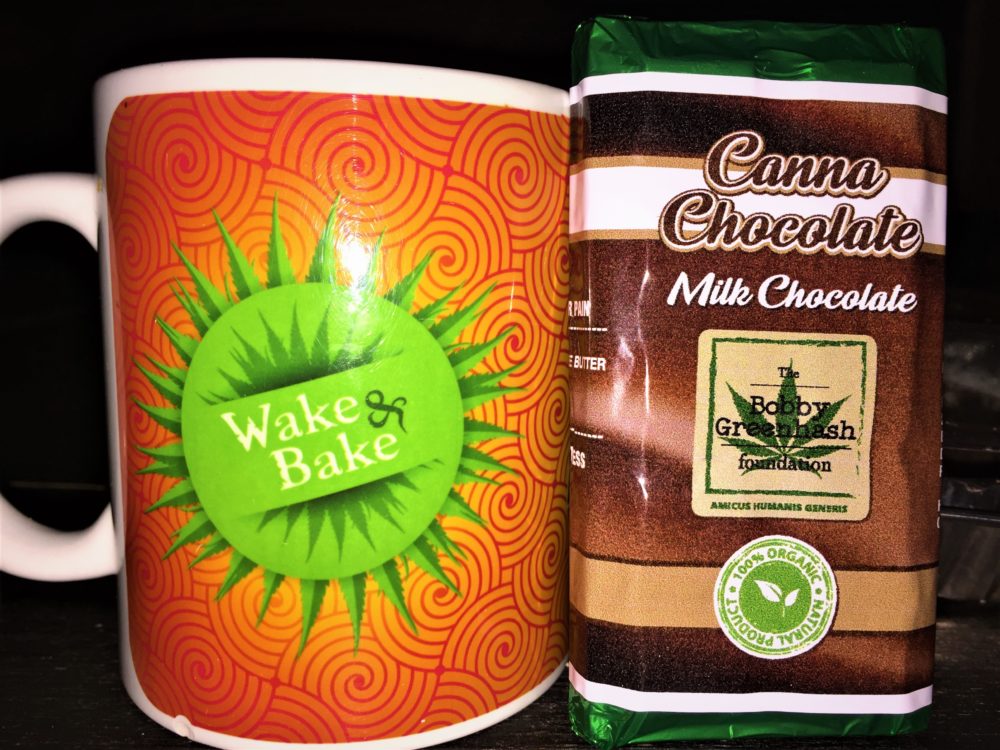 The best part of my visit to Bohemian Beach Bumz, was their "Ooey Gooey Chocolate Brownies". These are rich with crackling chocolate smothered on top & dusted with coconut.
Now, these brownies aren't found on their menu. The waiter that was assigned to me was super friendly & explained each item on & off the menu. As soon as I heard about these brownies, I had to have them. They were kind enough to even have them sliced for me as well. These Ooey Gooey Chocolate Brownies are R150 for a box of 6 pieces.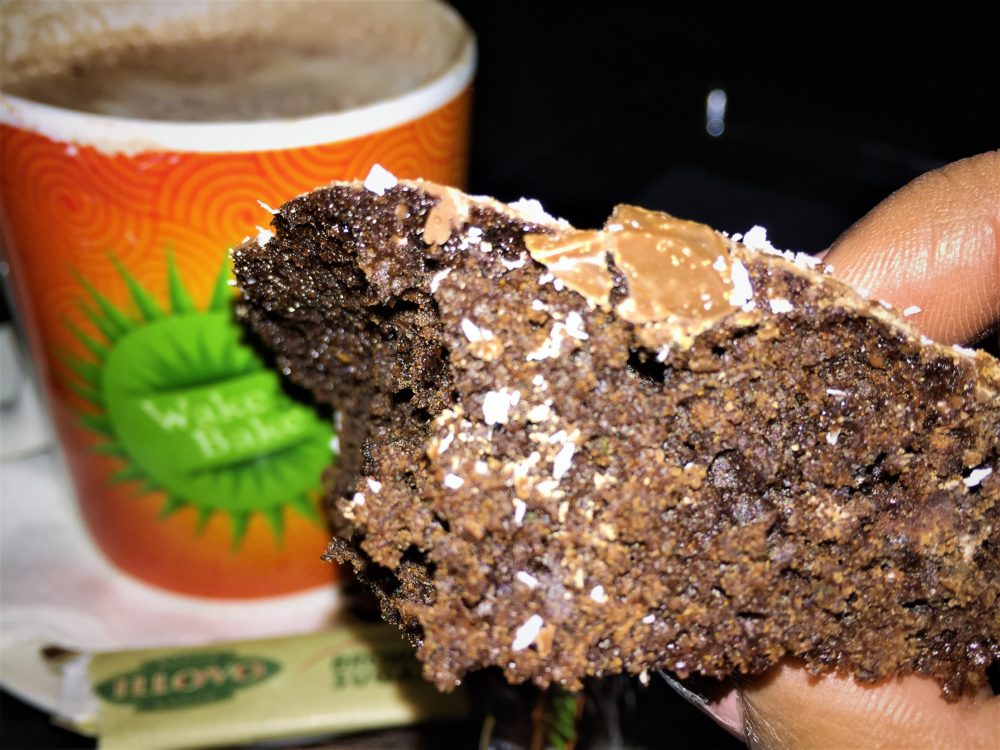 The individual brownies that are on the menu are pretty good as well. They are priced at R20 per piece or at R120 for 6 pieces. These were super rich with bits of nuts in them – I actually tasted them on my visit to them once before. These brownies come in a little plastic bag.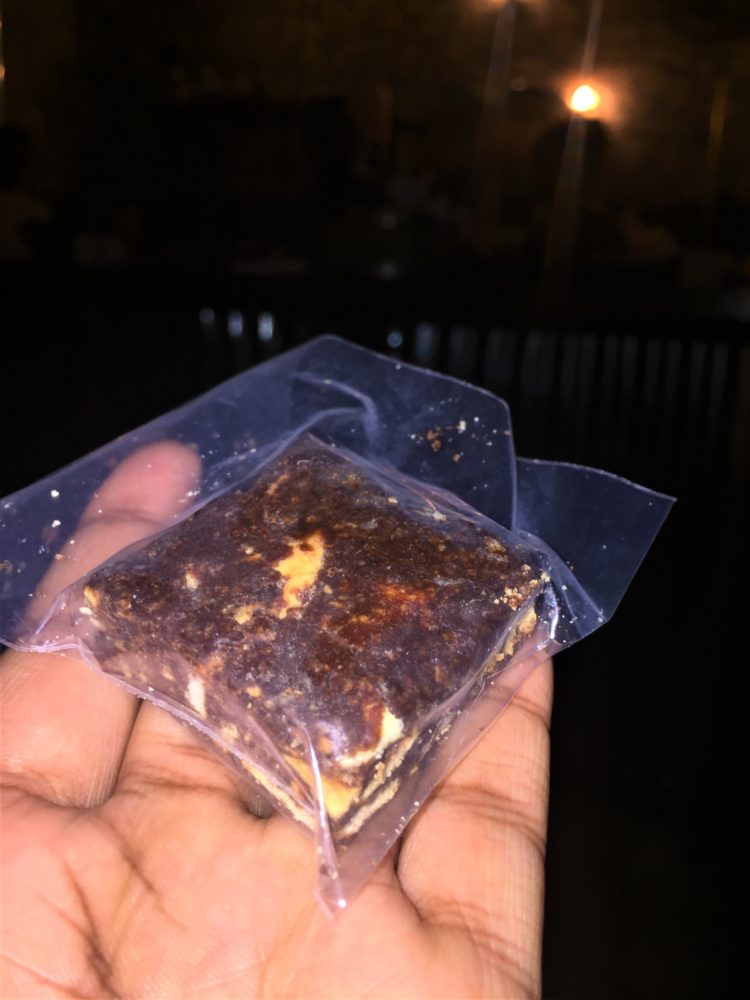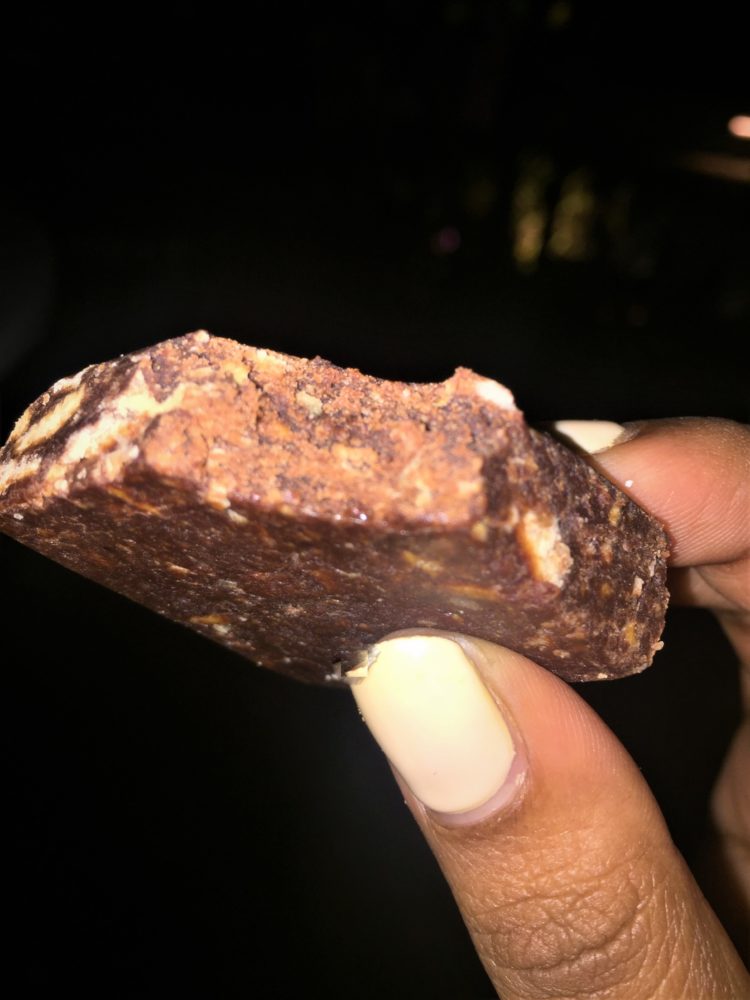 I haven't gotten to trying many other edibles but I sure will soon. On the counter, Bohemian Beach Bumz has a bucket filled with lollies, these looked pretty cool & they had a container containing green pieces.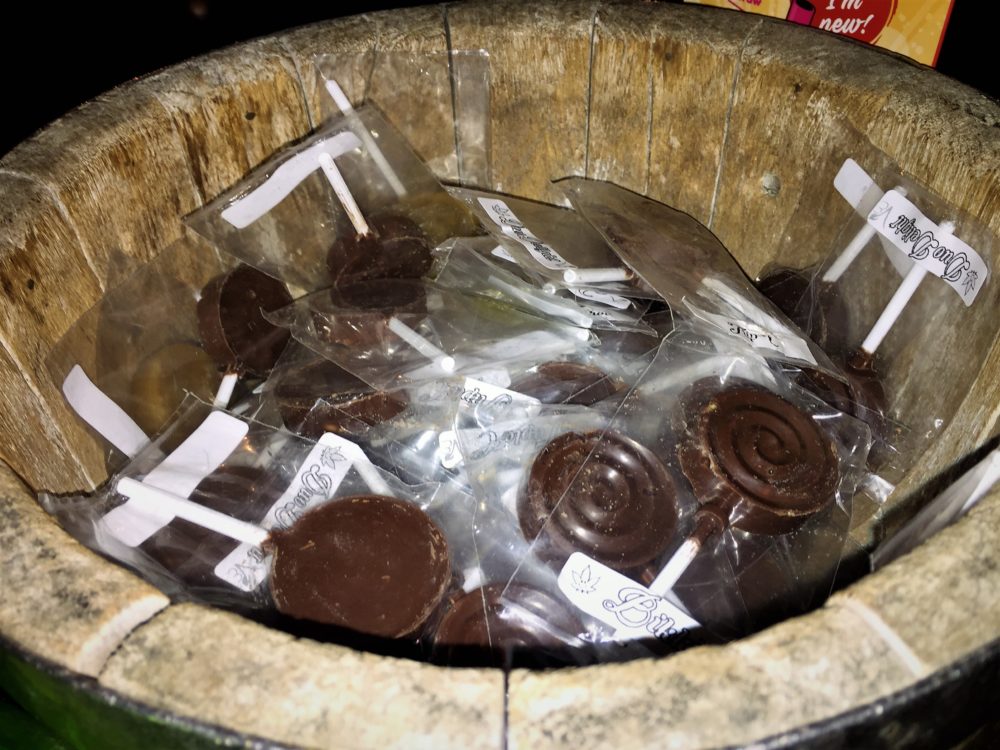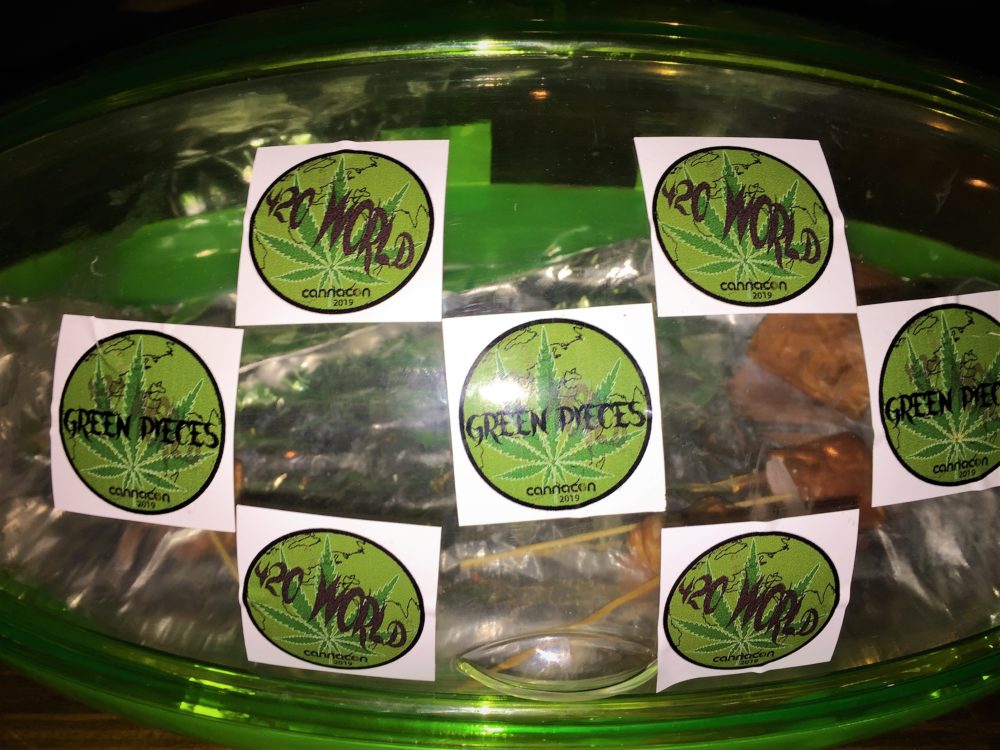 DRUM ROLL PLEASE!!! These guys even have waffle & pancake mixes available! That's heaven right there!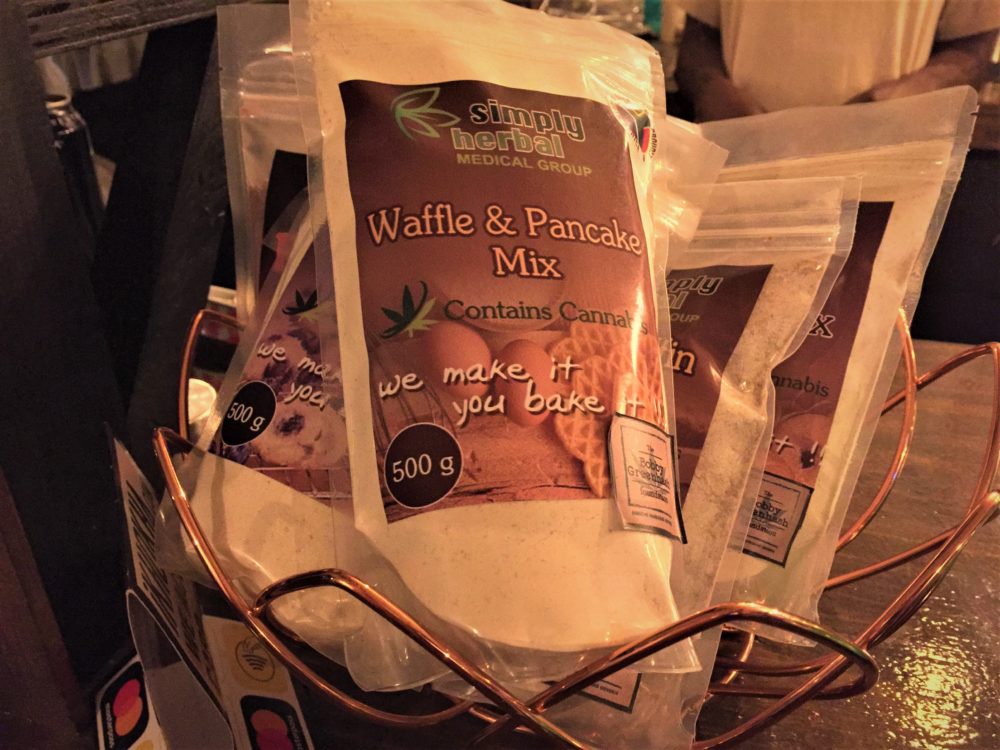 Bohemian Beach Bumz menu with a variety of edibles to choose from.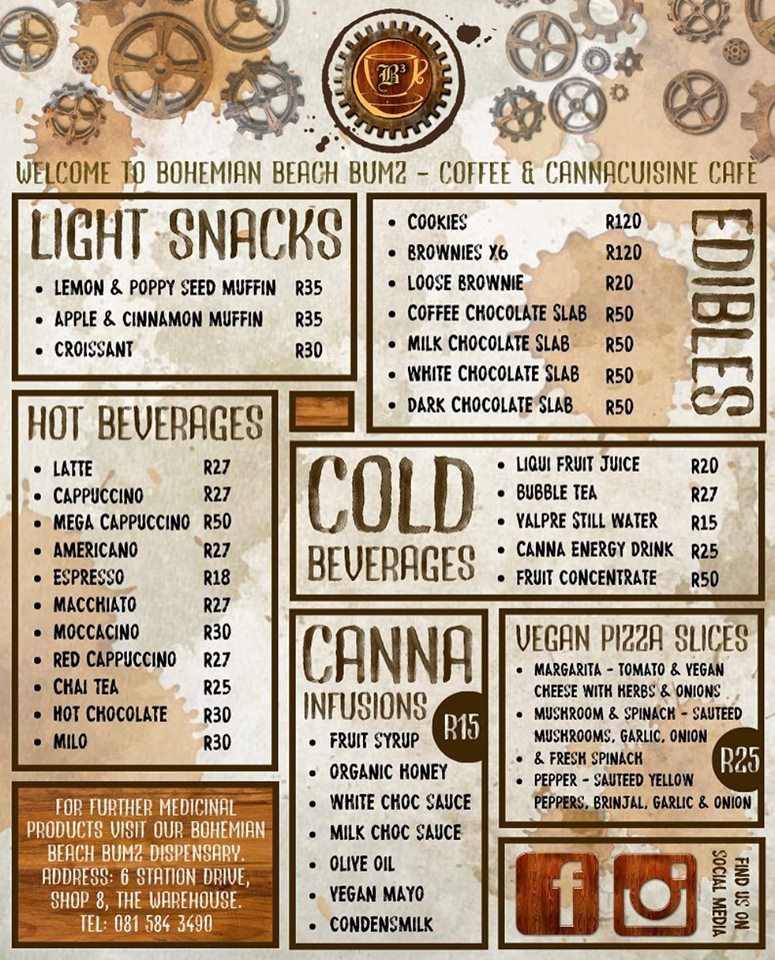 Their strength meter. Trust me, the Canna Slab & Brownies are the way to go. An hour later & I was definitely in my happy place!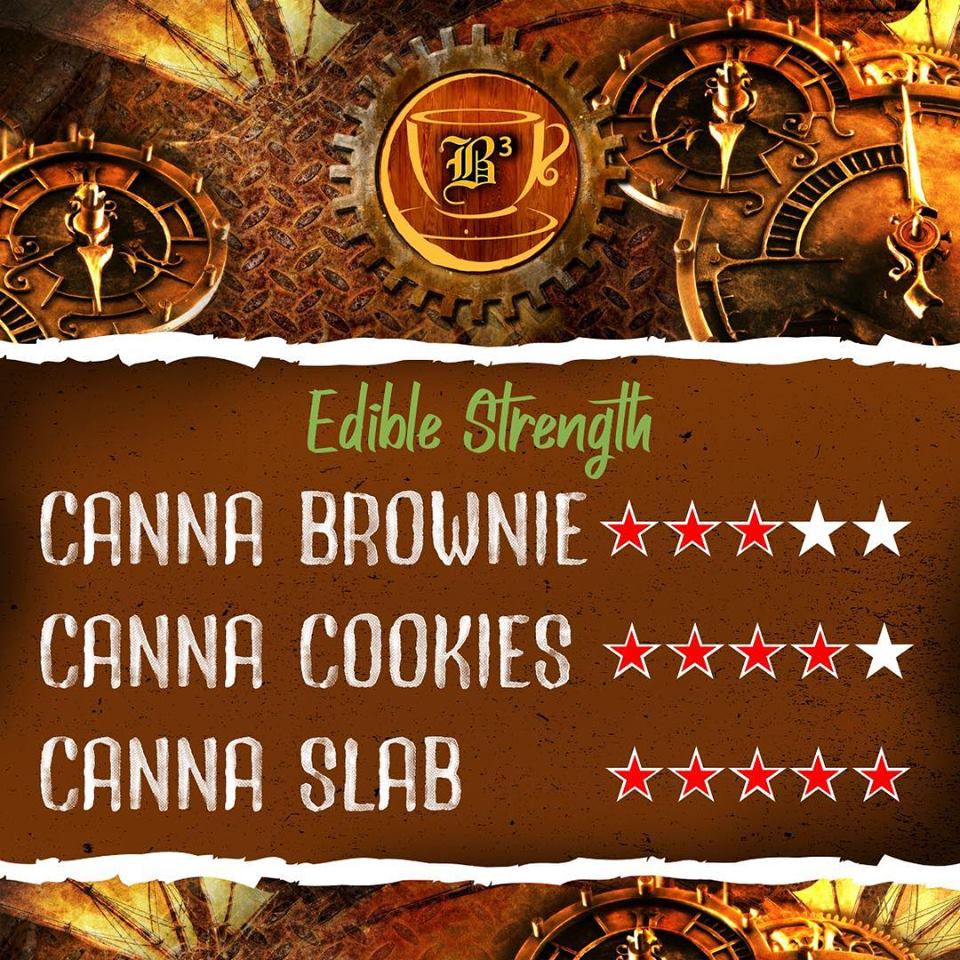 ---
SOME FREQUENTLY ASKED QUESTIONS JUST TO GET YOU CLUED UP WITH BOHEMIAN BEACH BUMZ, DIRECTLY FROM STONEZ (MEDICINAL MEDICAL & PHARMACEUTICAL CONSULTANT)
---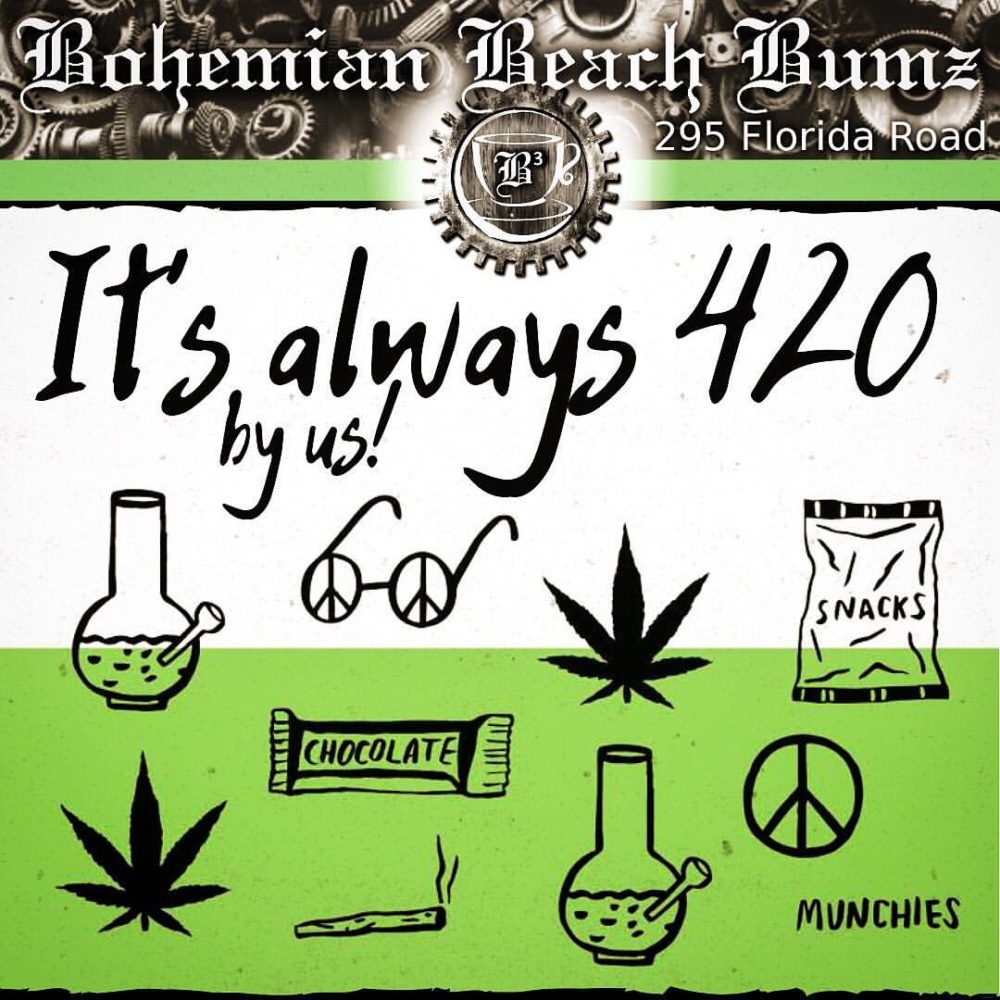 THC (Tetrahydrocannabinol) & CBD (Cannabinol) are the two primary cannabinoids that occur naturally in the Cannabis sativa plant, most commonly known as cannabis.

IS THIS LEGAL IN SOUTH AFRICA?
Yes it is 100% legal. It is sold in stores across Georgia & now also in South Africa. It is used by thousands to treat ailments or induce relaxation. CBD is extracted from hemp (a cousin of the marijuana plant) & only contains trace amounts of THC, the compound that gives marijuana users a high. The Federal Farm Bill approved last year, removed hemp from the Controlled Substances Act, which means that it is no longer illegal under Federal Law.
WHAT ARE THE MEDICAL BENEFITS OF CBD?
Research studies indicate that CBD may be useful in helping with:
Pain (neuropathic, chronic, cancer-related, etc).
Epilepsy
Multiple Sclerosis (MS)
Amyotrophic Lateral Sclerosis (ALS)
Parkinson's
Inflammation
Acne
Dyskinesia
Psoriasis
Broken bones
Mad Cow Disease
Depression
Bacterial Infections
Diabetes
Rheumatoid Arthritis
Nausea
Anxiety
ADHD
Schizophrenia
Substance Abuse/Withdrawal
Heart Disease
Irritable Bowl Syndrome (IBS)
Bohemian Beach Bumz Details: