EVERYTHING BUT THE BAGEL SEASONING
---
This Recipe Makes ± 200 Grams
---
Being South African, I've never come across the famous Everything But The Bagel Seasoning & I thought why not make it from scratch.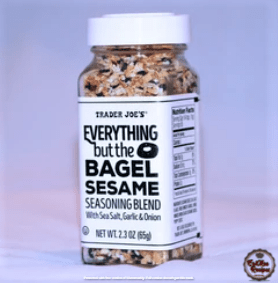 This recipe is super easy to make & the ingredients can be found at local grocers. Making it at home will leave your kitchen smelling absolutely amazing! This seasoning can be used not only for bagels but any other breads – trust me, once you taste it, you will definitely be adding it to everything!
Everything But The Bagel Seasoning Ingredients:
2 tablespoons black sesame seeds (kalonji seeds)
3 tablespoons white sesame seeds
2 tablespoons onion flakes
2 tablespoons garlic flakes
2 tablespoons poppy seeds
2 teaspoons flaky salt
Method:
Place a pan on the stove-top on medium heat & add in the white sesame seeds.
Add in the black sesame seeds.
Give it a mix.
Allow it to toast for 5 minutes. Be sure to stir every few seconds to prevent them from burning. Also note that they will begin to pop so be careful.
Once they are nice & golden, remove the sesame seeds from the heat & place into a bowl.
Thereafter, add in the onion flakes.
Add in the garlic flakes.
Add in the poppy seeds.
Finally, add in the flaky salt.
Mix well.
Pour into a storage jar.
This Everything But The Bagel Seasoning is ready to use. It can be added onto bagels or breads before baking.
I promise, this seasoning will take your breads to a whole new level.
.
Store this Everything But The Bagel Seasoning for up to 6 months. I prefer to make them in smaller batches because the fresher, the better!