DELICIOUS CALDO TLALPEÑO
---
This Mexican Recipe Serves 1
---
This Delicious Caldo tlalpeño recipe is a customary dish from Mexico which contains chicken meat & various vegetables. It is presented with avocado slices. The first recipe does not contain rice.
This is a hot delectable Mexican chicken soup. It's flavor just shows signs of improvement the following day. A tasty custom made stock truly makes this soup, however commercial stock is great as well.
Delicious Caldo tlalpeño Ingredients:
175 grams skinless & boneless chicken breasts
2 carrots, peeled & diced
1 onion, finely chopped
400 grams cooked chickpeas
1 large ripe avocado, stoned, peeled & diced
Salt to taste
1 lime, cut into wedges to serve
2 cloves garlic, finely chopped
1 teaspoon vegetable oil
1 ½ liters chicken stock
Green chillies as per taste, finely chopped
2 tablespoons fresh coriander (dhania), chopped
Method:
Place the chicken & chicken broth in a saucepan & bring to a boil. Reduce the heat & simmer for 20 minutes until the chicken is cooked.
Remove the chicken from the stock, shred the chicken & set aside. Reserve the stock (Do not throw away the stock). Allow for the stock to cool,
Heat the oil in a large saucepan over medium heat & sauté the onions, carrots, chillies & garlic until the onions are translucent.
Pour in the reserved stock & simmer for 10 minutes.
Season with salt as per taste.
Just before serving, add the shredded chicken to the broth & heat through.
Pour the broth into serving bowls & sprinkle over with avocado & coriander.
Serve this Delicious Caldo tlalpeño with lime wedges or tortilla chips.

Summary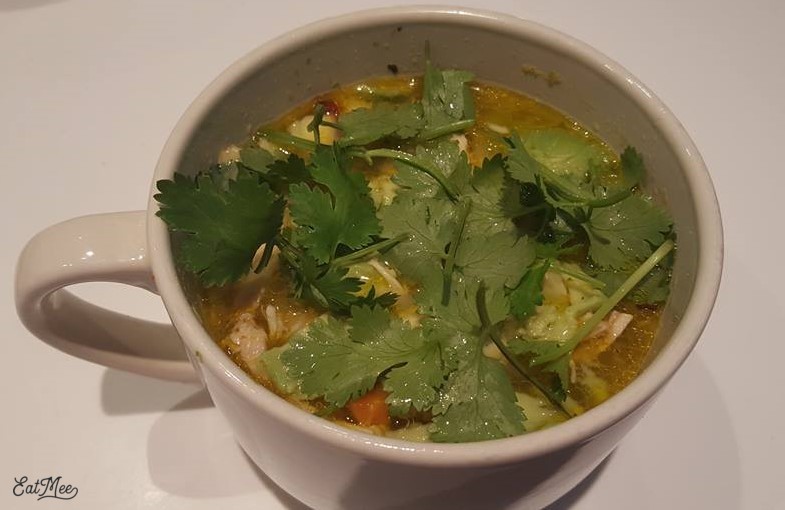 Recipe Name
Published On
Preparation Time
Cook Time
Total Time
Average Rating
Based on 5 Review(s)
Comments
comments