MCDONALDS STYLE CHICKEN MCMUFFIN
---
This Breakfast Recipe Serves 1

---
This McDonalds Style Chicken McMuffin is actually prepared using the crusts of ordinary white bread. It is an easier way to make the McMuffin but obviously if you have English muffins on hand then that can be used.
The McMuffin is a group of breakfast sandwiches in different sizes & arrangements, sold by the fast-food eatery network McDonald's. Presented in 1972, the Egg McMuffin is the mark sandwich concocted by Herb Peterson to take after eggs Benedict.
McDonalds Style Chicken McMuffin Ingredients:
1 chicken or beef burger patty
1 egg
sprinkle of salt
butter for spreading
2 slices of bread crust (preferably white) or 1 English muffin
cheese of your choice
sauce of your choice
Method:
Lay out the two crust slices on a hard surface.
Next, using any circular cutter, cap or glass,  press onto the crust slices, making a circular shape.
Lightly butter the soft side of both crusts. If you're using the English muffin then slice in half & butter the insides.
Toast the buttered sides of the crusts or English muffins.
Set aside when they are golden.
Spread any sauce of your choice on one of the toasted crusts or one side of muffin.
On the other toasted crust or muffin, lay the cheese. This will be the bottom part of the McMuffin.
Next, fry the burger patty in a little oil.
Place the cooked burger patty over the cheese.
Fry the egg in a little butter – sunny side up.
When the egg has been cooked, season with a little salt.
Place the fried egg over the burger patty.
Cover with the toasted crust or muffin that had a layer of sauce.
It is a quick & easy breakfast.
McDonalds Style Chicken McMuffin can be enjoyed as is or with a side of fries.

Summary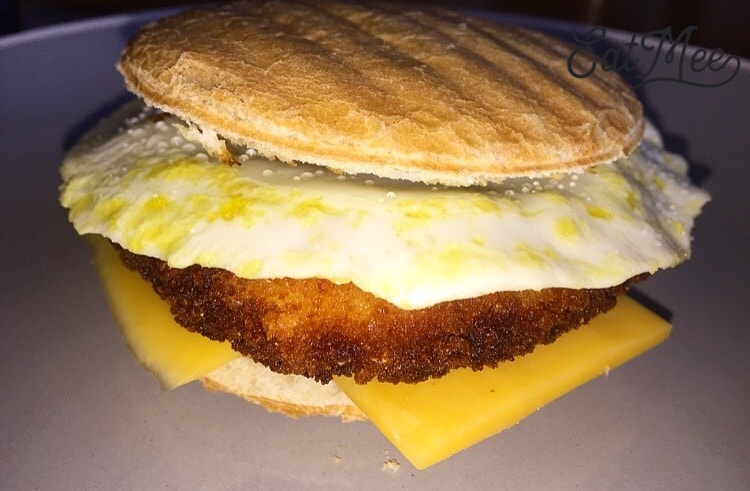 Recipe Name
McDonalds Style Chicken McMuffin
Published On
Preparation Time
Cook Time
Total Time
Average Rating
Based on 2 Review(s)